Movies Most Similar to Ben (1972)
Watch movies if you like Ben (1972).
29 items, 941 votes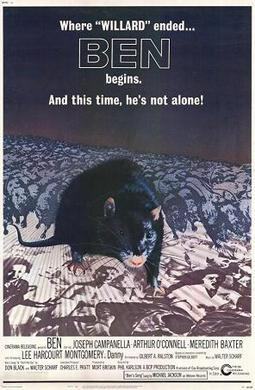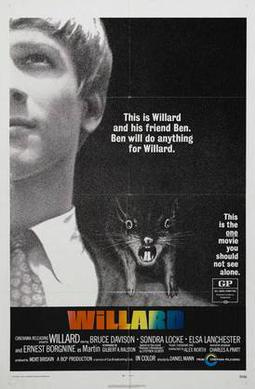 Starring:
Bruce Davison, Elsa Lanchester, Sondra Locke, Michael Dante
Willard Stiles is a meek social misfit who develops an affinity for rats. He lives in a large house with his cranky and decrepit mother Henrietta.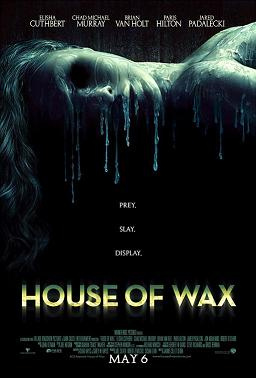 Starring:
Chad Michael Murray, Paris Hilton, Elisha Cuthbert, Brian Van Holt
Carly, Wade, Nick, Paige, Blake, and Dalton are on their way to a football game in Louisiana. The night before the game, they camp in a field.

Starring:
Michael Caine, Katharine Ross, Richard Widmark, Richard Chamberlain
A group of soldiers led by Major Baker (Bradford Dillman) is ordered to investigate the basement level of a missile base, which appears to have been attacked, and the garrison all but wiped out.
4
Seance: the Summoning (2011)

Starring:
Bobby Campo, Nazneen Contractor, Chris Olivero, Devon Ogden
After a loudmouth college punk singer accuses an amateur medium of being a fake, four college students break into the city morgue and video themselves holding a seance.

Starring:
Dee Wallace, Daniel Hugh Kelly, Danny Pintauro, Christopher Stone
Cujo, a friendly and easygoing St. Bernard, chases a wild rabbit and inserts his head into a cave, where a rabid bat bites him in the nose.

Starring:
Christopher George, Andrew Prine, Richard Jaeckel, Joan McCall
Genres:
Adventure, Horror, Thriller
The film opens with military veteran helicopter pilot and guide Don Stober (Prine) flying individuals above the trees of a vast national park.

Starring:
Mariel Hemingway, Michael Paré, Mason Gamble, Ken Pogue
While making love in their tent during a work expedition in Nepal, photo-journalists Ted Harrison and his girlfriend Marjorie are attacked by a werewolf.
8
Just Before Dawn (1981)

Starring:
George Kennedy, Mike Kellin, Chris Lemmon, Gregg Henry
In a rural, mountainous region of Oregon, drunken hunters Ty and Vachel come across an abandoned church, which they explore.

Starring:
Crispin Glover, R. Lee Ermey, Laura Harring, Jackie Burroughs
Genres:
Drama, Horror, Thriller
Willard Stiles (Crispin Glover) is a social misfit taking care of his ill and fragile, but verbally abusive, mother Henrietta (Jackie Burroughs) in a musty old mansion that is also home to a colony of rats.
10
Of Unknown Origin (1983)

Starring:
Peter Weller, Jennifer Dale, Lawrence Dane, Kenneth Welsh
Of Unknown Origin is a 1983 Canadian-American horror film directed by George P. Cosmatos and starring Peter Weller.

Starring:
Shawnee Smith, Kevin Dillon, Donovan Leitch Jr., Jeffrey DeMunn
Genres:
Horror, Sci-Fi, Thriller
A military satellite crashes near Arborville, California. An elderly transient discovers, within the sphere, a slime mold-like substance that adheres to his hand.

Starring:
Roy Scheider, Lorraine Gary, Murray Hamilton, Joseph Mascolo
Genres:
Adventure, Horror, Thriller
Jaws 2 is a 1978 American thriller film directed by Jeannot Szwarc and co-written by Carl Gottlieb.

On television show Frightmare Theatre, the Horror Host welcomes viewers and introduces them to the film they are about to see, The Roost.

Starring:
Eliza Dushku, Jeremy Sisto, Emmanuelle Chriqui, Desmond Harrington
Wrong Turn may refer to:.
15
He Knows You're Alone (1980)

Starring:
Don Scardino, Caitlin O'Heaney, Elizabeth Kemp, Tom Rolfing
A young bride is murdered on her wedding day by the man she rejected for her current fiancé Len Gamble, a police detective.
16
The Hills Have Eyes (1977)

Starring:
Suze Lanier-Bramlett, Robert Houston, Martin Speer, Dee Wallace
The Hills Have Eyes is a 1977 American horror film written, directed, and edited by Wes Craven and starring Susan Lanier, Michael Berryman and Dee Wallace.

Starring:
Skye McCole Bartusiak, Marc Donato, Debbie Rochon, Cas Rooney
Sick Boy is an American Indie horror-thriller, written and directed by Tim T. Cunningham and starring Skye McCole Bartusiak, Marc Donato and Debbie Rochon.
18
Day of the Animals (1977)

Starring:
Christopher George, Leslie Nielsen, Lynda Day George, Richard Jaeckel
Genres:
Horror, Sci-Fi, Thriller
The depletion of the Earth's ozone layer by CFC aerosols has been causing increased exposure to UV radiation at high altitudes.
19
Scream of the Wolf (1974)

Starring:
Peter Graves, Clint Walker, Jo Ann Pflug, Philip Carey
Following a series of brutal murder committed by what appears to be an animal, Sheriff Vernon Bell (Philip Carey) asks local adventure writer and former hunter John Weatherby (Peter Graves) to investigate.

Starring:
Kian Lawley, Elizabeth Keener, Angelica Cassidy, Chris Gann
When a child-stealing demon attaches itself to a little girl, her family is thrust into a battle against time in order to save the girl and send the demon back to hell.