Movies You Would Like to Watch If You Like Man of La Mancha (1972)
Movies similar to Man of La Mancha (1972).
23 items, 702 votes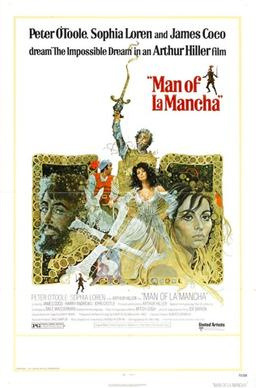 1
Somewhere in Time (1980)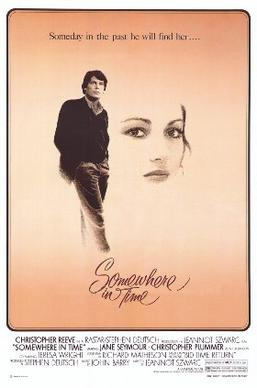 Starring:
Christopher Reeve, Jane Seymour, Christopher Plummer, Teresa Wright
Genres:
Drama, Fantasy, Romance
In 1972, college theatre student Richard Collier celebrates the debut of his new play.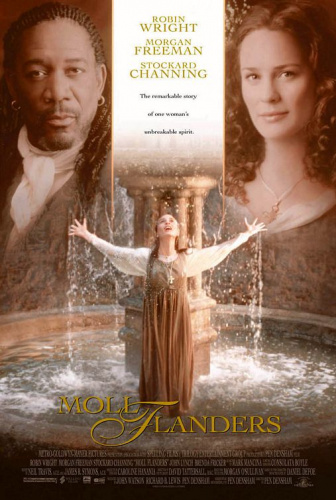 Starring:
Robin Wright, Morgan Freeman, Stockard Channing, John Lynch
Moll Flanders is a 1996 American period drama film starring Robin Wright and Morgan Freeman, loosley based on the novel of the same name by Daniel Defoe.
3
Pennies From Heaven (1981)

Starring:
Steve Martin, Bernadette Peters, Jessica Harper, Vernel Bagneris
Genres:
Drama, Musical, Romance
In 1934, Chicago sheet-music salesman Arthur Parker is having a hard time, both in his business and at home with his wife Joan.
4
The Preacher's Wife (1996)

Starring:
Denzel Washington, Whitney Houston, Courtney B. Vance, Gregory Hines
Genres:
Comedy, Drama, Fantasy
A voiceover by the child Jeremiah (Justin Pierre Edmund) guides the viewer through the film. Rev. Henry Biggs (Courtney B.

Starring:
Julia Migenes, Plácido Domingo, Ruggero Raimondi, Faith Esham
Genres:
Drama, Music, Romance
Carmen is a 1984 French-Italian film directed by Francesco Rosi. It is a film version of Bizet's opera Carmen.

Starring:
Barbra Streisand, Amy Irving, Mandy Patinkin, Nehemiah Persoff
Genres:
Drama, Musical, Romance
Barbra Streisand portrays Yentl Mendel, a woman living in an Ashkenazi shtetl named Pechev in Poland in 1904.
7
The Merchant of Venice (2004)

Starring:
Al Pacino, Joseph Fiennes, Lynn Collins, Jeremy Irons
The movie begins with Antonio talking to two men, Solario and Salerio. Antonio tells them he is sad and feeling blue, and that there is no specific reason why.

Starring:
Joel Grey, Barnard Hughes, Jean Louisa Kelly, Joey McIntyre
Amos Babcock Bellamy (Joel Grey) and Ben Hucklebee (Brad Sullivan) scheme to get their respective children, Luisa (Jean Louisa Kelly) and Matt (Joey McIntyre), to fall in love.

Starring:
Nick Nolte, Debra Winger, Audra Lindley, Frank McRae
Genres:
Comedy, Drama, Romance
The story is about the skid row denizens of Monterey, California, during World War II.
10
The Perez Family (1995)

Starring:
Marisa Tomei, Anjelica Huston, Alfred Molina, Chazz Palminteri
Genres:
Comedy, Drama, Romance
The Perez Family is an American comedy film released in 1995 about a group of Cuban refugees in America who pretend to be a family.

Genres:
Family, Fantasy, Musical
Rodgers & Hammerstein's Cinderella (also known as simply Cinderella) is a 1997 American musical fantasy television film produced by Walt Disney Television, directed by Robert Iscove and written by Robert L.

Starring:
Aamir Khan, Ajay Devgn, Juhi Chawla, Kajol
Genres:
Action, Comedy, Drama
Ranjit Rai and Harbans Lal Saxena are two wealthy business magnates who despise the poor.
13
The Razor's Edge (1984)

Starring:
Bill Murray, Theresa Russell, Denholm Elliott, Catherine Hicks
Genres:
Drama, Romance, War
In Illinois in 1917, just before the United States joins World War I, a fair has been planned to raise money to support Gray Maturin and Larry Darrell, who are joining the war in Europe as ambulance drivers.

Starring:
Richard Dreyfuss, Holly Hunter, Brad Johnson, John Goodman
Genres:
Drama, Fantasy, Romance
Pete Sandich (Dreyfuss) is an aerial firefighter whose excessive risk taking in the air deeply troubles his girlfriend, Dorinda Durston (Hunter), a pilot who doubles as a dispatcher.
15
Oscar and Lucinda (1997)

Starring:
Ralph Fiennes, Cate Blanchett, Ciarán Hinds, Tom Wilkinson
As a little girl living in Australia, Lucinda Leplastrier is given a Prince Rupert's Drop which sparks a lifelong obsession with glass.
16
To Gillian on Her 37th Birthday (1996)

Genres:
Drama, Fantasy, Romance
David Lewis (Peter Gallagher) is so affected by the death of his beautiful wife, Gillian (Michelle Pfeiffer), who fell from the mast of their yacht on a sailing trip, that he turns their summer cottage in Nantucket, Massachusetts into a permanent home and spends most of his time on the beach there, communicating with Gillian's spirit and unwittingly neglecting his daughter, Rachel (Claire Danes).
17
A Heavenly Vintage (2009)

Starring:
Jérémie Renier, Keisha Castle-Hughes, Patrice Valota, Vania Vilers
Genres:
Drama, Fantasy, Romance
The film is the story of Sobran Jodeau (Jérémie Renier), an ambitious young peasant winemaker, and the three loves of his life – his beautiful wife Celeste (Keisha Castle-Hughes), the proudly intellectual baroness Aurora de Valday (Vera Farmiga), and Xas (Gaspard Ulliel), an angel who strikes up an unlikely but enduring friendship that borders on eroticism with him.
18
The Accidental Tourist (1988)

Starring:
William Hurt, Kathleen Turner, Geena Davis, Amy Wright
Macon Leary (William Hurt) is a Baltimore writer of travel guides for reluctant business travelers, which detail how best to avoid unpleasantness and difficulty.

Starring:
Sophia Loren, Richard Burton, Ian Bannen, Barbara Pilavin
Set in Sicily in the years leading up to World War I, Adriana De Mauro (Sophia Loren) loves Cesar Braggi (Richard Burton), but Cesar, honoring his father's dying wish, allows his brother Antonio (Ian Bannen) to marry her.
20
Carry on Abroad (1972)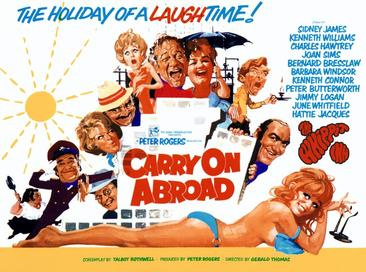 Starring:
Sidney James, Kenneth Williams, Charles Hawtrey, Joan Sims
The film opens with pub landlord and frequent holidaymaker Vic Flange (Sid James) openly flirting with the sassy saucepot widow Sadie Tompkins (Barbara Windsor) as his battleaxe wife, Cora (Joan Sims), looks on with disdain.