Movies Like Return of the Evil Dead (1973)
Movies to watch if you like Return of the Evil Dead (1973).
21 items, 648 votes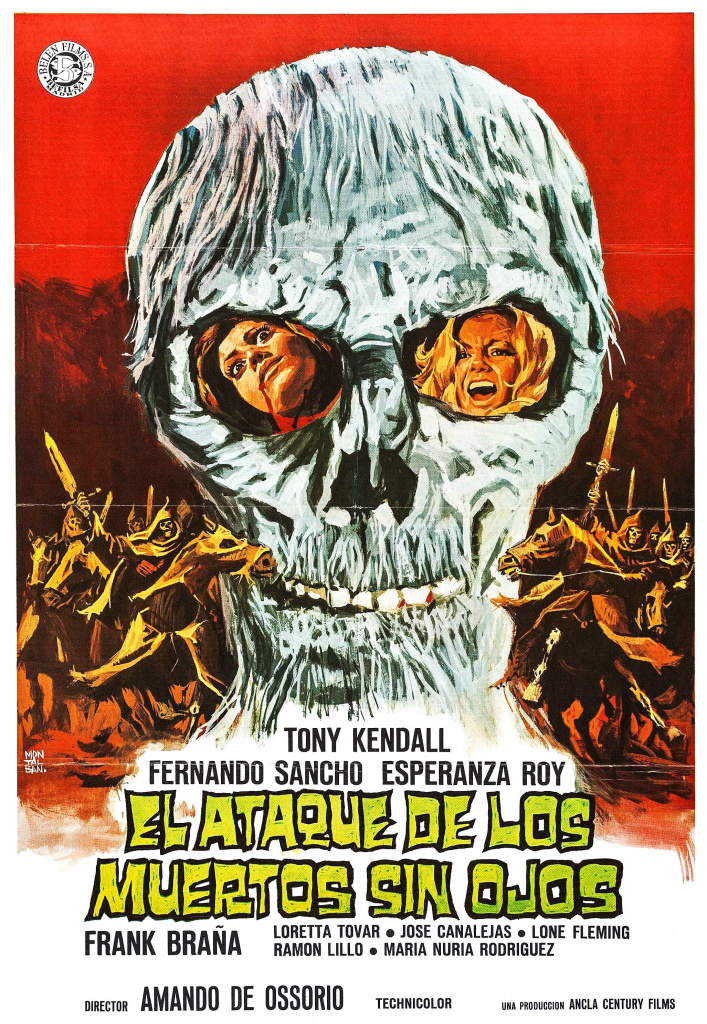 1
Night of the Seagulls (1975)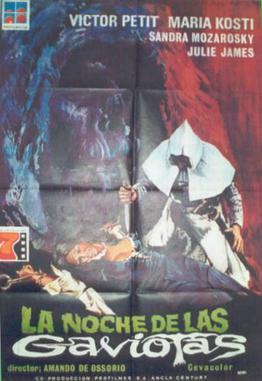 Starring:
Víctor Petit, María Kosty, Sandra Mozarowsky, José Antonio Calvo
The film starts in medieval times, when a young couple is attacked by the Knights Templar.
2
Tombs of the Blind Dead (1972)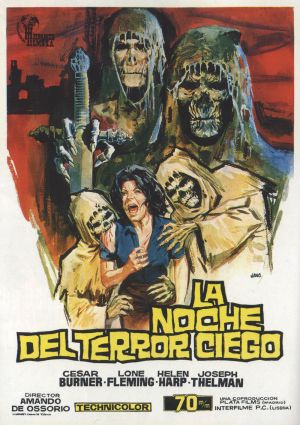 Starring:
Lone Fleming, César Burner, María Elena Arpón, José Thelman
Legend has it that in the abandoned medieval town of Berzano, at the border between Spain and Portugal, the Knights Templar (a fictionalized version of the real-life order that was dissolved in the 14th century following charges of witchcraft and heresy) leave their tombs at night and come back from the dead as revenants.

Starring:
Urbano Barberini, Natasha Hovey, Karl Zinny, Fiore Argento
Miss Peters is an English teacher at a gang-infested high school where fights between different gangs are the norm.

Starring:
Jane Levy, Shiloh Fernandez, Jessica Lucas, Lou Taylor Pucci
Genres:
Action, Adventure, Fantasy
The film opens with the capture of a girl in the woods, who is taken to a cabin with cult members.
5
[REC] 4: Apocalypse (2014)

Starring:
Manuela Velasco, Paco Manzanedo, Héctor Colomé, Ismael Fritschi
Genres:
Action, Adventure, Fantasy
A Special Forces Team is sent to an apartment complex to rescue a reporter named Ángela and destroy the building.
6
Way of the Vampire (2005)

Starring:
Rhett Giles, Andreas Beckett, Paul Logan, Denise Boutte
Genres:
Action, Horror, Thriller
After defeating Dracula, Van Helsing is granted immortality by the church to pursue and eradicate vampires from the face of the earth.

Starring:
Wesley Snipes, Kevin Howarth, Riley Smith, Tanit Phoenix Copley
Genres:
Action, Adventure, Fantasy
A group of disfigured people gather near a railroad in a desert where they are killed by a mysterious gunslinger named Aman (Wesley Snipes), who also rips out the head and spine from one of the dead bodies.

Starring:
Matt Schulze, Cerina Vincent, Billy Wirth, Billy Drago
Genres:
Action, Horror, Thriller
While being transported through the Arizona desert in a van, six convicted prisoners escapes after a car accident.
9
[REC] 3: Genesis (2012)

Starring:
Leticia Dolera, Diego Martín, Ismael Martínez, Àlex Monner
Genres:
Action, Comedy, Fantasy
REC 3: Genesis (stylised as [•REC]³: Génesis) is a 2012 Spanish action horror film directed by Paco Plaza. This film is the third installment of the REC series.
10
Tales From the Crypt: Demon Knight (1995)

Starring:
Billy Zane, William Sadler, John Kassir, Jada Pinkett Smith
Genres:
Action, Fantasy, Horror
On a desert road in New Mexico, The Collector pursues drifter Frank Brayker. The vehicles crash and Brayker flees.
11
Knight of the Dead (2013)

Starring:
Feth Greenwood, Vivien Vilela, Lee Bennett, Dylan Jones
Genres:
Action, Fantasy, Horror
Hunted by raiders, a band of crusading knights escorting the holy grail are forced into a forbidden valley of black death.

Starring:
Jorge Rivero, Andrea Occhipinti, Conrado San Martín, Violeta Cela
Genres:
Action, Adventure, Fantasy
In a mystical land, a handsome youth named Ilias (Andrea Occhipinti) embarks on a quest, leaving behind his family in his paradise home for a fog-shrouded wilderness.

Starring:
Hisato Izaki, Yûsuke Izaki, Ayana Sakai, Ryûdô Uzaki
Genres:
Action, Fantasy, Horror
Devilman (デビルマン) is a 2004 Japanese superhero film directed by Hiroyuki Nasu. It is based on the manga series of the same name.

Starring:
Henry Cavill, Dominic Purcell, Emma Booth, Michael Fassbender
Genres:
Action, Fantasy, Horror
In 1936, a German professor, Richard Wirth, is hosted by the Wollners, a family of German emigrants in West Virginia.
15
Vampires: the Turning (2005)

Starring:
Colin Egglesfield, Stephanie Chao, Roger Yuan, Patrick Bauchau
Genres:
Action, Horror, Thriller
For many centuries, the phi song neng (vampires who have vowed never to drink human blood) have lived among the villages of the Far East.

Starring:
Sam Bottoms, Kim Delaney, Clu Gulager, Ken Swofford
Genres:
Action, Adventure, Horror
Five men from the city decide to take a little trip to the woods and have some fun and hunting.

Starring:
Arnold Schwarzenegger, Gabriel Byrne, Robin Tunney, Kevin Pollak
Genres:
Action, Fantasy, Horror
In 1979, the Pope sends a priest on a mission to find and protect a girl (Christine York) identified in New York by Satanists as one chosen to be the mother of Satan's child after witnessing a comet arching over the moon at the Vatican.
18
Zombie Apocalypse (2011)

Starring:
Ving Rhames, Taryn Manning, Johnny Pacar, Gary Weeks
Genres:
Action, Adventure, Horror
The film begins by showing the previous six months in flashbacks. In June 2011 a plague called the VM2 virus is first discovered in a French woman.
19
Final Destination 3 (2006)

Starring:
Mary Elizabeth Winstead, Ryan Merriman, Kris Lemche, Alexz Johnson
Final Destination 3 is a 2006 American supernatural horror film directed by James Wong.
20
House of the Dead (2003)

Starring:
Jonathan Cherry, Tyron Leitso, Clint Howard, Ona Grauer
Genres:
Action, Adventure, Horror
After booking a boat trip to attend a rave on an island located off the coast of Seattle named "Isla del Morte" ("Island of Death"), two college students, Simon (Tyron Leitso) and Greg (Will Sanderson) meet up with three girls: Alicia (Ona Grauer), Karma (Enuka Okuma) and Greg's girlfriend Cynthia (Sonya Salomaa).