Most Similar Movies to Multiple Maniacs (1970)
Movies similar to Multiple Maniacs (1970).
28 items, 940 votes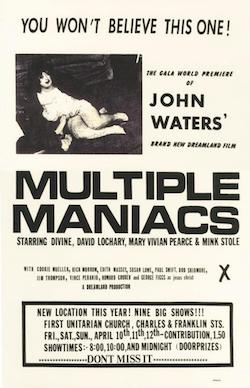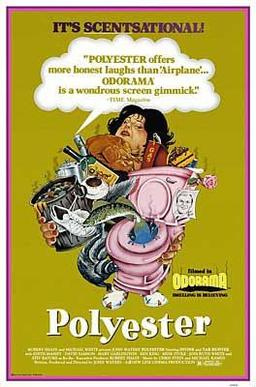 Starring:
Divine, Tab Hunter, Edith Massey, David Samson
Housewife Francine Fishpaw watches her upper-middle-class family's life crumble in their suburban Baltimore home.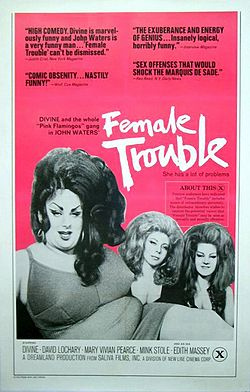 Starring:
Divine, David Lochary, Mary Vivian Pearce, Mink Stole
Delinquent high-school student Dawn Davenport goes berserk when her parents refuse to buy her the shoes she wants for Christmas because "nice girls don't wear cha-cha heels": she destroys presents, topples a Christmas tree on her mother, and flees the house.

Starring:
Kathleen Turner, Sam Waterston, Ricki Lake, Matthew Lillard
Genres:
Comedy, Crime, Thriller
Beverly Sutphin appears to be a typical suburban housewife living with her dentist husband, Eugene, and their teenage children, Misty and Chip, in the suburbs of Baltimore.

Starring:
Andy Signore, Bruce Cronander, Crystal LeBard, G. Larry Butler
Lionel is a custodian that longs for more.

Starring:
Robert North, Jeremy Whelan, Victoria Scott, Holly Stevenson
Blades is an American 1989 horror film directed by Thomas R. Rondinella and distributed by Troma Entertainment.

Starring:
Divine, David Lochary, Mary Vivian Pearce, Mink Stole
The notorious criminal Divine lives under the pseudonym "Babs Johnson" with her mentally ill mother Edie, delinquent son Crackers, and traveling companion Cotton.
7
Desperate Living (1977)

Starring:
Liz Renay, Mink Stole, Susan Lowe, Edith Massey
Genres:
Comedy, Crime, Fantasy
Peggy Gravel, a neurotic, delusional, suburban housewife, and her overweight nurse, Grizelda Brown, go on the lam after Grizelda smothers Peggy's husband, Bosley, to death.

Starring:
Brooke Balderson, Amy Kelly, Jennifer Dreiling, Summer Makovkin
Genres:
Comedy, Crime, Horror
Set in and around a small town high school in Kansas, Beth is a naive senior student who asks her two new friends, the slick and outgoing Julie, and her boyfriend Scott to help her cover up the accidental killing of the hated school principal.
9
Some Guy Who Kills People (2011)

Starring:
Kevin Corrigan, Barry Bostwick, Karen Black, Leo Fitzpatrick
Genres:
Comedy, Crime, Drama
Ken Boyd is released from a mental hospital and is given a chance at a new life working in an ice-cream parlour with his childhood friend Irv.

Starring:
Cyrinda Foxe, Matthew Anton, Cathy Roskam, Carroll Baker
Genres:
Comedy, Crime, Horror
Hazel Aiken (Carroll Baker) is a Queens housewife and hairdresser who runs an electrolysis parlor in her home.

Starring:
Will Keenan, Alyce LaTourelle, Lloyd Kaufman, Trent Haaga
The film is the story of a New York low-budget film crew, led by their insane and egotistical blind film director, Larry Benjamin, who is trying to create a work of art.
12
Freeway II: Confessions of a Trickbaby (1999)

Genres:
Comedy, Crime, Drama
Crystal "White Girl" Van Meter is a 15-year-old prostitute who is sentenced to 25 years for a long list of crimes that include beating up and robbing johns.

Starring:
Malik Carter, Sean Andrews, Tula, Mary Carey
College student James (Andrews) arrives from New Orleans at a desert ranch owned by his father, Hezekiah (Sandeen) to help out.
14
I Know How Many Runs You Scored Last Summer (2008)

Starring:
Jai Koutrae, Stacey Edmonds, Az Jackson, David Gambin
Genres:
Comedy, Crime, Horror
A cricket team are dismissed by a moustachioed serial killer with a razor sharp cricket glove and an arsenal of sharpened stumps.

Starring:
Penny Vital, Nina Fehren, Mark Hengst, Noelle Kenney
A beautiful cook girl comes to one Kuban collective farm and she immediately attracted the attention of many men who began to look after her.

Starring:
Alyssa Lobit, Jennifer Blanc-Biehn, Kamala Jones, AJ Bowen
Among Friends is a 1978 jazz studio album by American saxophonist Art Pepper playing with Russ Freeman, Bob Magnusson, and Frank Butler.
17
How to Be a Serial Killer (2008)

Starring:
Dameon Clarke, Matthew Gray Gubler, Laura Regan, George Wyner
Genres:
Comedy, Crime, Horror
Mike Wilson (Dameon Clarke) is a charismatic, educated, and articulate young man who has found his life's purpose in exterminating people.

Starring:
Snoop Dogg, Daniella Alonso, Anson Mount, Hawthorne James
A hip hop horror anthology of three tales of terror told by the Hound of Hell that revolve around the residents of an inner-city neighborhood whose actions determine where they will go in the afterlife.
19
Actress Apocalypse (2005)

20
Satan's Little Helper (2004)

Starring:
Alexander Brickel, Katheryn Winnick, Stephen Graham, Amanda Plummer
Douglas 'Dougie' Whooly is a nine-year-old boy obsessed with a video game, in which he plays Satan's little helper.