Movies Like What Men Want (2019)
Movies like What Men Want (2019).
18 items, 505 votes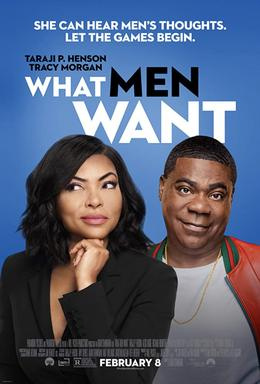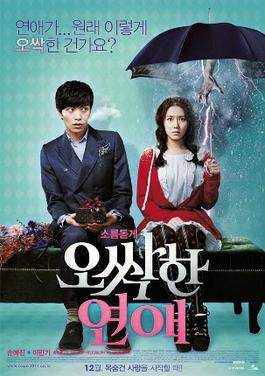 Starring:
Ye-jin Son, Min-ki Lee, Cheol-min Park, Hyun-sook Kim
Genres:
Comedy, Fantasy, Horror
Jo-goo, a street magician (Lee Min-ki), notices a miserable looking girl, Yeo-ri (Son Ye-jin), in the audience during one of his performances, and she winds up being the inspiration for his "Horror magic show.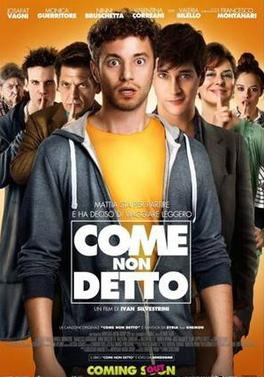 Starring:
Josafat Vagni, Monica Guerritore, Francesco Montanari, Antonino Bruschetta
Tell No One (Italian: "Come non detto", As not said) is a 2012 Italian comedy film, directed by Ivan Silvestrini.

Starring:
Jamie Chung, Cam Gigandet, Katherine Cunningham, Nick Thune
Genres:
Comedy, Fantasy, Romance
Rich is a sex addict who ruins every relationship through infidelity. He wishes that his penis would leave him alone.
4
There's a Girl in My Soup (1970)

Starring:
Peter Sellers, Goldie Hawn, Tony Britton, Ruth Trouncer
Robert Danvers is a vain, womanizing and wealthy host of a high-profile television cooking show.
5
Love at Second Sight (2019)

Starring:
François Civil, Joséphine Japy, Benjamin Lavernhe, Camille Lellouche
Genres:
Comedy, Drama, Fantasy
Raphaël is a student who writes a science fiction novel during his school lessons, but doesn't dare showing it to anyone.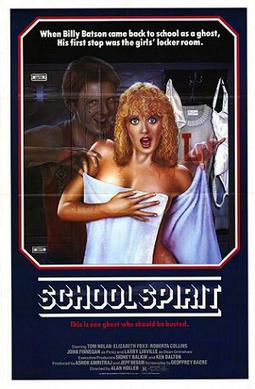 Starring:
Tom Nolan, Elizabeth Foxx, Larry Linville, Roberta Collins
School Spirit is a 1985 American comedy film about a college student who is killed in a car accident and returns as a ghost to haunt his school.
7
Employee of the Month (2006)

Starring:
Jessica Simpson, Dane Cook, Dax Shepard, Andy Dick
For years, Zack Bradley has been working at the local "Super Club" as a box-boy.

Starring:
Basil Eidenbenz, Aggy K. Adams, Adina Stetcu, Bogdan Iancu
Oh, Ramona! is a 2019 Romanian coming-of-age comedy film directed by Cristina Jacob, based on the novel Suck It, Ramona! by Romanian comedian Andrei Ciobanu.
9
Ants in the Pants (2000)

Starring:
Tobias Schenke, Axel Stein, Luise Helm, Mina Tander
Genres:
Comedy, Fantasy, Romance
Ants in the Pants (German: Harte Jungs, which translates as Hard Boys) is a 2000 German comedy film directed by Marc Rothemund.

Starring:
Ashton Kutcher, Brittany Murphy, Christian Kane, David Moscow
The film opens with Tom and Sarah in the airport, then flashes back from the moment they met up to the present.
11
Ghosts of Girlfriends Past (2009)

Starring:
Matthew McConaughey, Jennifer Garner, Emma Stone, Michael Douglas
Genres:
Comedy, Fantasy, Romance
Connor Mead is a famous photographer and womanizer.

Starring:
Candice Rialson, Larry Gelman, Jane Kean, Perry Bullington
Penelope, a young hairdresser, discovers her vagina can talk when it criticizes a lover's performance, who leaves in a huff.

Starring:
Brandon Baker, Mike Schminke, Sasha Jackson, Reginald VelJohnson
"The Formula" is the story of Quinn and Graham, two engineering students who discover a mathematical formula to pick up women with ease.
14
Love the Coopers (2015)

Starring:
Steve Martin, Diane Keaton, John Goodman, Ed Helms
Genres:
Comedy, Fantasy, Romance
Sam and Charlotte are divorcing after forty years of marriage.

Starring:
Maribel Verdú, Antonio de la Torre, Priscilla Delgado, Javier Antón
Genres:
Comedy, Drama, Fantasy
Carmen (Verdú) is married to Carlos (De la Torre), a rude, emotionally abusive construction worker who barely pays any attention to his wife and teenage daughter.
16
40 Days and 40 Nights (2002)

Starring:
Josh Hartnett, Shannyn Sossamon, Paulo Costanzo, Adam Trese
Matt Sullivan lives in San Francisco with his roommate Ryan, working at a dot-com company.

Starring:
Maribel Verdú, Diego Martín, Toni Acosta, Rafael Spregelburd
At her 39 years old, Paz is a Madrilenian woman which life is on the verge of a nervous collapse: in her work in a marketing company she is constantly humiliated by her boss Borja, son of the previous owner and an unqualified man younger than Paz who only thinks in having sex with all his women employers that in addition hires Alicia (a famous twenty-something Internet influencer) to work as Paz's supervisor; Paz's best friend and gym teacher Vanessa is completely obsessed with her ex-boyfriend, looking him in dating Apps and social networks in the cell phone, ignoring to her friend all the times; Paz's sister Bea is a crazy cat lady who organize feasts for other cat ladies, caring extremely to her pet and asking Paz to care the cat a few days mean she travels to a meeting of an activist group by the rights of the cats; Paz's upstairs neighbor Kiko lives in a never-ending and noisy party in his house, making Paz can't sleep a single night easy and quietly; Paz's boyfriend Dante is an .
18
Carry on Abroad (1972)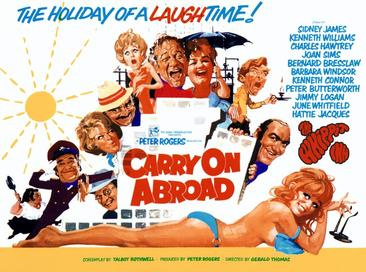 Starring:
Sidney James, Kenneth Williams, Charles Hawtrey, Joan Sims
The film opens with pub landlord and frequent holidaymaker Vic Flange (Sid James) openly flirting with the sassy saucepot widow Sadie Tompkins (Barbara Windsor) as his battleaxe wife, Cora (Joan Sims), looks on with disdain.