Most Similar Movies to the Looking Glass War (1970)
Movies to watch if you like The Looking Glass War (1970).
15 items, 401 votes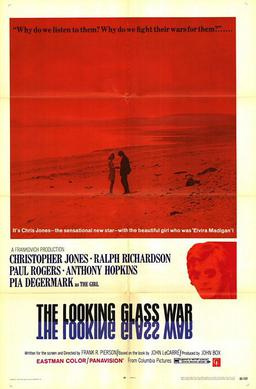 1
Tinker Tailor Soldier Spy (2011)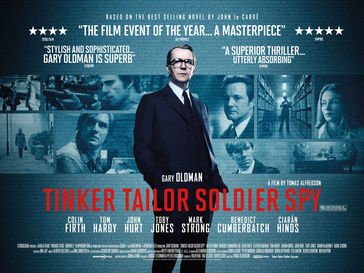 Starring:
Gary Oldman, Colin Firth, Tom Hardy, Mark Strong
Genres:
Drama, Mystery, Thriller
Tinker Tailor Soldier Spy is a 2011 Cold War spy thriller film directed by Tomas Alfredson.
2
The Russia House (1990)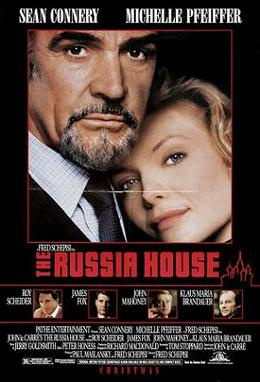 Starring:
Sean Connery, Michelle Pfeiffer, Roy Scheider, James Fox
Genres:
Drama, Romance, Thriller
Bartholomew "Barley" Scott-Blair (Sean Connery), the head of a British publishing firm, arrives in Moscow on business.
3
A Most Wanted Man (2014)

Starring:
Philip Seymour Hoffman, Rachel McAdams, Daniel Brühl, Robin Wright
Genres:
Crime, Drama, Thriller
Issa Karpov, a political refugee from Chechnya who has been tortured by Russian security forces, illegally enters Hamburg, Germany.
4
The Little Drummer Girl (1984)

Starring:
Diane Keaton, Yorgo Voyagis, Klaus Kinski, Sami Frey
Set in Europe and the Middle East, the plot follows the Mossad's clandestine attempt to flush out a PLO bomber named Khalil.
5
Company Business (1991)

Starring:
Gene Hackman, Mikhail Baryshnikov, Kurtwood Smith, Terry O'Quinn
Genres:
Action, Comedy, Crime
With the Cold War rapidly coming to an end, retired CIA operative Sam Boyd has taken up freelancing as a corporate spy for cosmetics giant Maxine Gray, only to find that his hands-on style of espionage is being rendered obsolete by the capabilities of younger computer hackers.
6
The Human Factor (1979)

Starring:
Richard Attenborough, Nicol Williamson, Derek Jacobi, Joop Doderer
Genres:
Drama, Romance, Thriller
Maurice Castle (Nicol Williamson) is a mid-level bureaucrat in MI6 whose life seems unremarkable, apart from the fact that he has an African wife, Sarah (Iman), and son, Sam (Gary Forbes).

Starring:
Martin Sheen, Sam Neill, Brigitte Fossey, Derek Jacobi
East German dissident Alex Holbeck (Martin Sheen), living in Paris, hosts a radio program aimed at Iron Curtain countries.
8
The Tailor of Panama (2001)

Starring:
Pierce Brosnan, Geoffrey Rush, Jamie Lee Curtis, Leonor Varela
Genres:
Comedy, Drama, Thriller
Andy Osnard is an MI6 spy reassigned to Panama after having an affair in Madrid with the foreign minister's mistress.
9
Our Kind of Traitor (2016)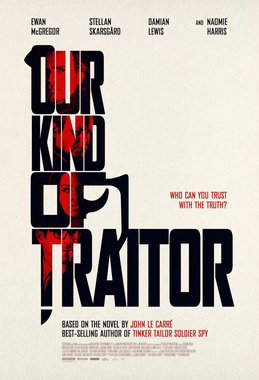 Starring:
Carlos Acosta, Radivoje Bukvic, Stellan Skarsgård, Mariya Fomina
Genres:
Crime, Drama, Thriller
In a money laundering scheme, "the Prince" – head of the Russian Mafia – creates a new bank in London and has its financial oligarchs sign over their accounts to him.
10
Carry on Abroad (1972)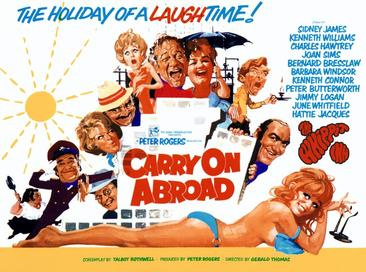 Starring:
Sidney James, Kenneth Williams, Charles Hawtrey, Joan Sims
The film opens with pub landlord and frequent holidaymaker Vic Flange (Sid James) openly flirting with the sassy saucepot widow Sadie Tompkins (Barbara Windsor) as his battleaxe wife, Cora (Joan Sims), looks on with disdain.
11
The Fourth Protocol (1987)

Starring:
Michael Caine, Pierce Brosnan, Ned Beatty, Joanna Cassidy
In 1968, an East-West agreement is established to halt nuclear proliferation.
12
The Man From U.N.C.L.E. (2015)

Starring:
Henry Cavill, Armie Hammer, Alicia Vikander, Elizabeth Debicki
Genres:
Action, Adventure, Comedy
In 1963, at the height of the Cold War, professional thief-turned-CIA-agent Napoleon Solo extracts Gaby Teller, daughter of Dr.
13
The Kremlin Letter (1970)

Starring:
Bibi Andersson, Richard Boone, Nigel Green, Dean Jagger
Genres:
Crime, Drama, Thriller
Late in 1969, a brilliant young United States Navy intelligence officer, Charles Rone, finds his commission revoked so that he can be recruited into an espionage mission to retrieve a fake letter showing an alliance between the West and the Soviet Union against China.
14
The Tamarind Seed (1974)

Starring:
Julie Andrews, Omar Sharif, Anthony Quayle, Dan O'Herlihy
Genres:
Drama, Romance, Thriller
An attractive British Home Office assistant named Judith Farrow is on vacation on the Caribbean island of Barbados after ending a failed love affair with married group captain Richard Paterson of the British air attaché in Paris.

Genres:
Action, Crime, Thriller
In 1991, the US and China are on the verge of a major trade agreement, with the President due to visit China to seal the deal.