Movies to Watch If You Like Lust for a Vampire (1971)
Movies similar to Lust for a Vampire (1971).
12 items, 298 votes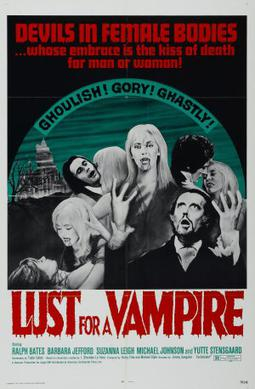 1
The Vampire Lovers (1970)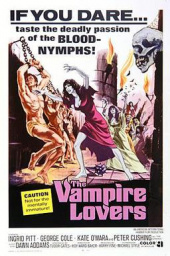 Starring:

Ingrid Pitt, Pippa Steel, Madeline Smith, Peter Cushing

In the late 18th century Styria, a beautiful blonde (Kirsten Lindholm) in a diaphanous gown materializes from a misty graveyard.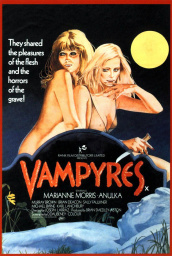 Starring:

Marianne Morris, Anulka Dziubinska, Murray Brown, Brian Deacon

Two beautiful women, Fran (Marianne Morris) and Miriam (Anulka Dziubinska) roam the English countryside.

Starring:

Adrienne Corri, Thorley Walters, Anthony Higgins, John Moulder-Brown

One evening near the small Serbian village of Stetl, early in the nineteenth century, schoolmaster Albert Müller witnesses his wife Anna taking a little girl, Jenny Schilt, into the castle of Count Mitterhaus, a reclusive nobleman rumored to be a vampire responsible for the disappearances of other children.
4
The Blood Spattered Bride (1972)

Starring:

Simón Andreu, Maribel Martín, Alexandra Bastedo, Dean Selmier

Susan, a newly married young woman still wearing her bridal gown, leaves on honeymoon with her new husband and eventually arrives at a hotel.
5
Dracula A.D. 1972 (1972)

Starring:

Christopher Lee, Peter Cushing, Stephanie Beacham, Christopher Neame

Dracula A. D. 1972 is a 1972 horror film, directed by Alan Gibson and produced by Hammer Film Productions.

Starring:

Peter Cushing, Dennis Price, Mary Collinson, Madeleine Collinson

Set during the 17th century in Styria, identical twin sisters Maria and Frieda Gelhorn move from Venice to Karnstein in Central Europe to live with their uncle Gustav Weil after becoming recently orphaned.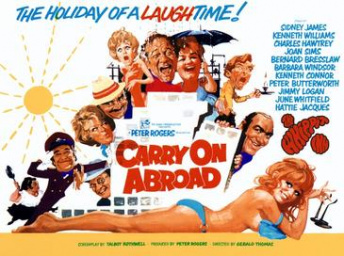 Starring:

Sidney James, Kenneth Williams, Charles Hawtrey, Joan Sims

The film opens with pub landlord and frequent holidaymaker Vic Flange (Sid James) openly flirting with the sassy saucepot widow Sadie Tompkins (Barbara Windsor) as his battleaxe wife, Cora (Joan Sims), looks on with disdain.
8
Scars of Dracula (1970)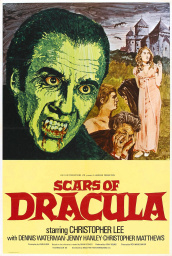 Starring:

Christopher Lee, Dennis Waterman, Jenny Hanley, Christopher Matthews

Scars of Dracula is a 1970 British horror film directed by Roy Ward Baker for Hammer Films.

Starring:

Catherine Deneuve, David Bowie, Susan Sarandon, Cliff De Young

Miriam Blaylock is a vampire, seen in flashbacks drinking from victims in Ancient Egypt, promising specially chosen humans eternal life as her vampire lovers.
10
The Carmilla Movie (2017)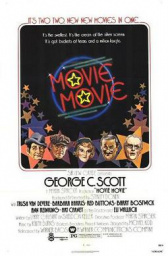 Starring:

Elise Bauman, Natasha Negovanlis, Annie Briggs, Kaitlyn Alexander

Genres:

Comedy, Horror, Romance

Picking up five years after the series ends, Carmilla (Natasha Negovanlis) and Laura (Elise Bauman) are now living in Toronto.
11
The Satanic Rites of Dracula (1973)

Starring:

Christopher Lee, Peter Cushing, Michael Coles, William Franklyn

In 1974, a Secret Service agent (Maurice O'Connell) barely escapes from an English country house, in which satanic rituals are being celebrated.
12
Brotherhood of Blood (2007)

Starring:

Victoria Pratt, Jason Connery, Ken Foree, Sid Haig

Claustrophobic thriller about a team of vampire hunters who infiltrate a nest of undead to rescue one of their own. Carrie Rieger tugs at her bonds.