Movies Most Similar to the Barefoot Executive (1971)
Movies to watch if you like The Barefoot Executive (1971).
21 items, 632 votes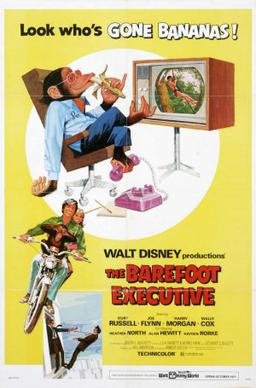 1
The Strongest Man in the World (1975)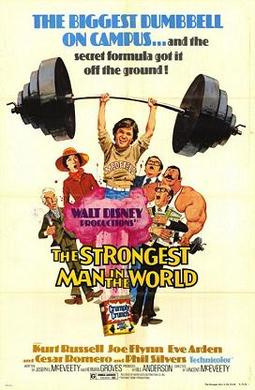 Starring:
Kurt Russell, Joe Flynn, Eve Arden, Cesar Romero
Genres:
Comedy, Family, Sci-Fi
Medfield College's Dean Higgins (Joe Flynn) is about to be fired for financial mismanagement due to extreme overspending by Prof.
2
The Cat From Outer Space (1978)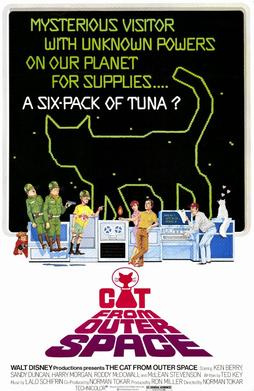 Starring:
Ken Berry, Sandy Duncan, Harry Morgan, Roddy McDowall
Genres:
Comedy, Family, Sci-Fi
An unidentified flying object makes an emergency landing on Earth and is taken into custody by the United States government.
3
The Million Dollar Duck (1971)

Starring:
Dean Jones, Sandy Duncan, Joe Flynn, Tony Roberts
Genres:
Comedy, Family, Sci-Fi
Scientist Albert Dooley (Dean Jones) struggles to pay the bills.

Starring:
Judge Reinhold, Eddie Albert, Lori-Nan Engler, Merritt Butrick
Jack Issel (Judge Reinhold) is a natural-born slacker who has just graduated from business school and joined I. N. C. , a large American corporation based in Chicago.

Starring:
Jeff Daniels, Matt Letscher, Harve Presnell, Dawn Wells
Super Sucker is a 2002 film featuring Jeff Daniels, Harve Presnell, and Kate Peckham.

Starring:
Matt LeBlanc, Jayne Brook, Gene Ross, Paul Hewitt
Genres:
Comedy, Family, Sport
In Santa Rosa, California, Jack "Deuce" Cooper (Matt LeBlanc) is a farm boy who arrives at an open tryout for the Santa Rosa Rockets minor league baseball team.

Starring:
Sinbad, Brock Pierce, Blake Boyd, Timothy Busfield
Sam Simms (Sinbad) is a Secret Service agent assigned by his superior Wilkes (Robert Guillaume) to protect President Paul Davenport's (James Naughton) rebellious 13-year-old son Luke Davenport (Brock Pierce) after Luke's behavior causes another agent Woods (Timothy Busfield) to be replaced for mistreating Luke in front of media cameras.

Starring:
Edward Asner, Don Knotts, Gary Grimes, Tim Conway
Genres:
Comedy, Family, Sport
The film opens in Yugoslavia with the Petrovic family watching their son Stepjan winning a soccer game.
9
Now You See Him, Now You Don't (1972)

Starring:
Kurt Russell, Cesar Romero, Joe Flynn, Jim Backus
Genres:
Comedy, Family, Sci-Fi
At Medfield College, science buff Dexter Riley and his friends, including Richard Schuyler and Debbie Dawson, eavesdrop via a hidden walkie-talkie on a board meeting led by Dean Eugene Higgins, discussing the small college's continuing precarious finances.
10
Hot Lead and Cold Feet (1978)

Starring:
Jim Dale, Darren McGavin, Karen Valentine, Don Knotts
Genres:
Action, Comedy, Family
Jasper Bloodshy (Dale) runs the rough-and-tumble town of Bloodshy—named after him because he founded it—which lives in fear of Jasper's gunslinging son Wild Billy (also played by Dale).
11
Snowball Express (1972)

Starring:
Dean Jones, Nancy Olson, Harry Morgan, Keenan Wynn
Johnny Baxter is at his corporate job when a probate attorney tells him that his recently deceased uncle, Jacob Barnesworth, has left him sole ownership of the lucrative Grand Imperial Hotel in the fictional town of Silver Hill, Colorado.
12
Max Keeble's Big Move (2001)

Starring:
Alex D. Linz, Larry Miller, Jamie Kennedy, Zena Grey
Genres:
Comedy, Crime, Family
Max Keeble is a paperboy who starts his first day of middle school. Max is antagonized by the corrupt megalomaniacal school principal, Elliot T.
13
Larger Than Life (1996)

Starring:
Bill Murray, Matthew McConaughey, Jerry Adler, Richard Alan Baker
The film opens at a convention of recliner salesmen, where Jack Corcoran (Bill Murray) gives a motivational speech based on his book Get Over It.

Starring:
Tim Allen, Kristin Davis, Craig Kilborn, Zena Grey
Genres:
Comedy, Family, Fantasy
Dave Douglas (Tim Allen) is a deputy district attorney in Los Angeles County who is prosecuting social studies teacher and activist Justin Forrester (Joshua Leonard) for firebombing the pharmaceutical corporation Grant and Strictland.
15
Look Who's Talking Now (1993)

Starring:
John Travolta, Kirstie Alley, David Gallagher, Tabitha Lupien
Genres:
Comedy, Family, Romance
A young cross breed puppy is up for sale and we can hear him talking. He sees Mikey passing by him and begs him to take him home.
16
Life with Mikey (1993)

Starring:
Michael J. Fox, Christina Vidal, Nathan Lane, Cyndi Lauper
Mikey Chapman (Michael J.
17
The Dog Who Saved Christmas Vacation (2010)

Starring:
Mario Lopez, Dean Cain, Paris Hilton, Gary Valentine
The Bannister family and their dog Zeus go to a ski lodge in Colorado for their Christmas vacation.

Starring:
Macaulay Culkin, Edward Herrmann, John Larroquette, Christine Ebersole
Richie Rich is the world's richest boy, the son of billionaire businessman and philanthropist Richard Rich.
19
Leave It to Beaver (1997)

Starring:
Christopher McDonald, Janine Turner, Cameron Finley, Erik von Detten
The movie opens with a bakery truck driving down the street, and Beaver and Wally riding together on Wally's bicycle, delivering morning newspapers.
20
The Apple Dumpling Gang Rides Again (1979)

Starring:
Tim Conway, Don Knotts, Tim Matheson, Kenneth Mars
Genres:
Comedy, Family, Western
Amos Tucker (Conway) and Theodore Ogelvie (Knotts), a pair of bumbling holdup men now going straight, arrive in the "boom town" of Junction City to start anew.