Movies to Watch If You Like the Cockeyed Cowboys of Calico County (1970)
Watch movies if you like The Cockeyed Cowboys of Calico County (1970).
11 items, 283 votes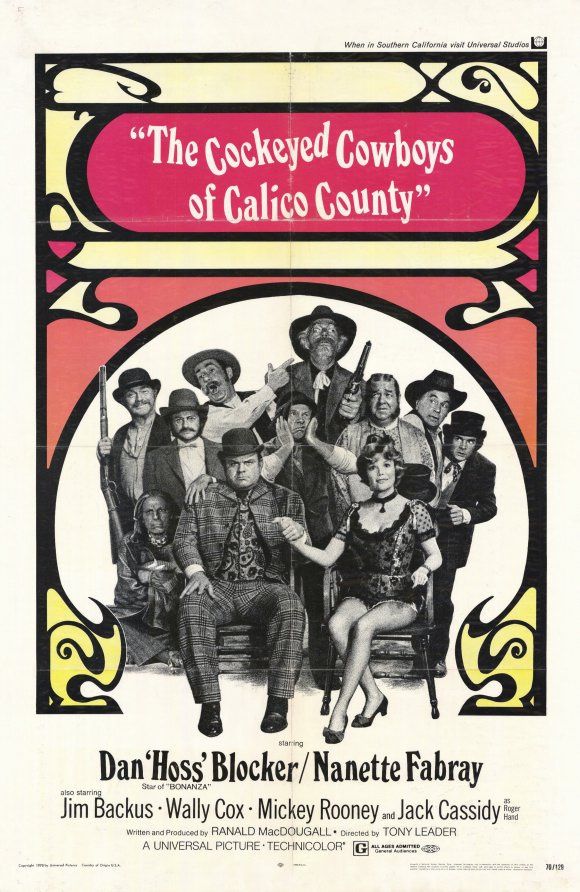 1
Support Your Local Gunfighter (1971)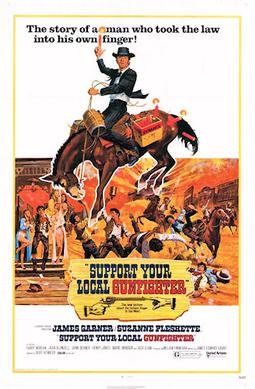 Starring:
James Garner, Suzanne Pleshette, Jack Elam, Harry Morgan
Genres:
Comedy, Romance, Western
Latigo Smith (Garner), a gambler and confidence man, is traveling by train in frontier-era Colorado with the rich and powerful Goldie (Marie Windsor).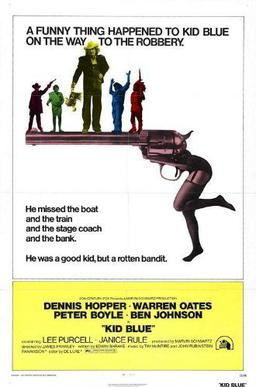 Starring:
Dennis Hopper, Warren Oates, Peter Boyle, Ben Johnson
Bickford Waner (Hopper), who has failed as a train robber, decides to go straight and get an honest job. He arrives in Dime Box, Texas, to find work.
3
Hot Lead and Cold Feet (1978)

Starring:
Jim Dale, Darren McGavin, Karen Valentine, Don Knotts
Genres:
Action, Comedy, Family
Jasper Bloodshy (Dale) runs the rough-and-tumble town of Bloodshy—named after him because he founded it—which lives in fear of Jasper's gunslinging son Wild Billy (also played by Dale).
4
The Apple Dumpling Gang Rides Again (1979)

Starring:
Tim Conway, Don Knotts, Tim Matheson, Kenneth Mars
Genres:
Comedy, Family, Western
Amos Tucker (Conway) and Theodore Ogelvie (Knotts), a pair of bumbling holdup men now going straight, arrive in the "boom town" of Junction City to start anew.
5
Trinity Is Still My Name (1971)

Starring:
Terence Hill, Bud Spencer, Yanti Somer, Enzo Tarascio
In the opening sequence, Bambino (Bud Spencer) is walking through the desert carrying his saddle and finds four escaped convicts, from whom he steals their beans and horses.

Starring:
Kirk Douglas, Arnold Schwarzenegger, Ann-Margret, Paul Lynde
A beautiful woman, "Charming Jones" (Ann-Margret), is being escorted across the west by a naive, slow-witted cowboy, "Handsome Stranger" (Schwarzenegger), after claiming a large sum of money given to her by her father, Parody Jones (Martin).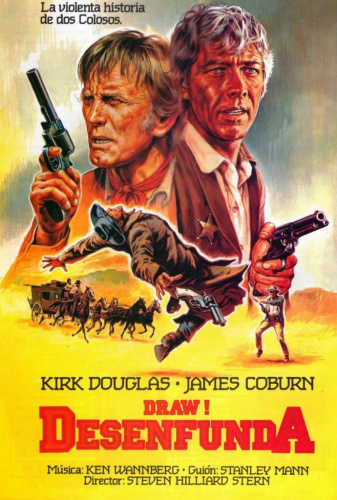 Starring:
Kirk Douglas, James Coburn, Alexandra Bastedo, Graham Jarvis
Genres:
Comedy, Romance, Western
In the final days of the Old West, a former desperado, Harry Holland (Kirk Douglas), only wants to leave Bell City with money he won fairly at a poker game.
8
A Million Ways to Die in the West (2014)

Starring:
Seth MacFarlane, Charlize Theron, Liam Neeson, Amanda Seyfried
A Million Ways to Die in the West is a 2014 American Western comedy film directed by Seth MacFarlane, who wrote the screenplay with Alec Sulkin and Wellesley Wild.

Starring:
Mickey Rooney, Dick Shawn, Henry Gibson, Dom DeLuise
Orphaned and left in the desert as an infant, Evil Roy Slade (John Astin) grew up alone—save for his teddy bear—and mean.
10
The Cheyenne Social Club (1970)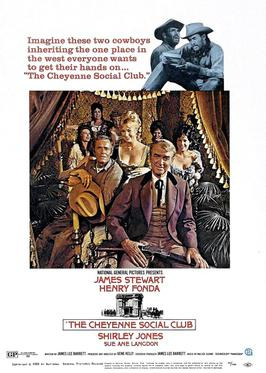 Starring:
James Stewart, Henry Fonda, Shirley Jones, Sue Ane Langdon
Genres:
Comedy, Romance, Western
In 1867, John O'Hanlan and Harley Sullivan are aging cowboys working on open cattle ranges in Texas.
11
Carry on Abroad (1972)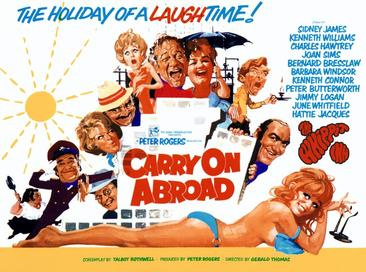 Starring:
Sidney James, Kenneth Williams, Charles Hawtrey, Joan Sims
The film opens with pub landlord and frequent holidaymaker Vic Flange (Sid James) openly flirting with the sassy saucepot widow Sadie Tompkins (Barbara Windsor) as his battleaxe wife, Cora (Joan Sims), looks on with disdain.