Movies You Should Watch If You Like Dracula A.D. 1972 (1972)
Movies to watch if you like Dracula A.D. 1972 (1972).
15 items, 401 votes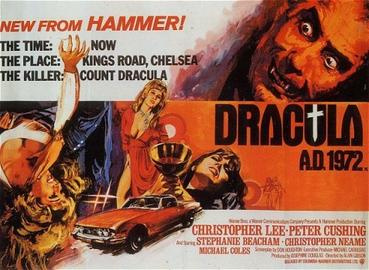 1
Taste the Blood of Dracula (1970)
Starring:
Christopher Lee, Geoffrey Keen, Gwen Watford, Linda Hayden
Genres:
Drama, Fantasy, Horror
A businessman named Weller is travelling through Eastern Europe when he is thrown from his carriage during a struggle and knocked unconscious.
2
Scars of Dracula (1970)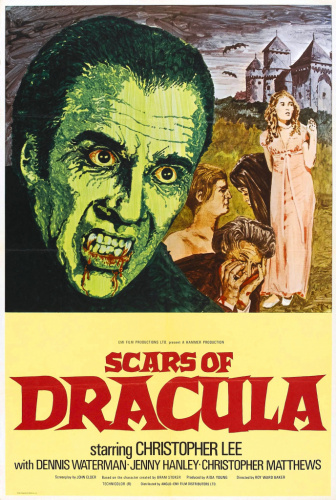 Starring:
Christopher Lee, Dennis Waterman, Jenny Hanley, Christopher Matthews
Scars of Dracula is a 1970 British horror film directed by Roy Ward Baker for Hammer Films.

Starring:
Christopher Lee, Herbert Lom, Klaus Kinski, Maria Rohm
Jonathan Harker, a lawyer traveling from London to Transylvania to secure property for Count Dracula, arrives at Bistritz to stay for the night.
4
The Legend of the 7 Golden Vampires (1974)

Starring:
Peter Cushing, David Chiang, Julie Ege, Han Chen Wang
In Transylvania in 1804, a lone figure makes his way through the countryside and into the towering Castle Dracula, where he summons Count Dracula.
5
The Satanic Rites of Dracula (1973)

Starring:
Christopher Lee, Peter Cushing, Michael Coles, William Franklyn
In 1974, a Secret Service agent (Maurice O'Connell) barely escapes from an English country house, in which satanic rituals are being celebrated.

Starring:
William Marshall, Vonetta McGee, Denise Nicholas, Thalmus Rasulala
Genres:
Fantasy, Horror, Romance
In 1780, Prince Mamuwalde (William Marshall) is sent by the elders of the Abani African nation to seek the help of Count Dracula (Charles Macaulay) in suppressing the slave trade.
7
Bram Stoker's Dracula (1992)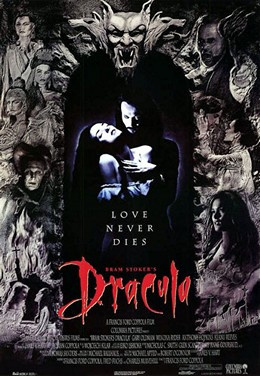 Starring:
Gary Oldman, Winona Ryder, Anthony Hopkins, Keanu Reeves
In 1462, Vlad Dracula returns from a victory against the Turks to find his wife Elisabeta committed suicide after his enemies reported his death.

Starring:
Gerard Butler, Justine Waddell, Jonny Lee Miller, Christopher Plummer
Genres:
Action, Fantasy, Horror
Matthew Van Helsing, the alleged descendant of the famed 19th century Dutch physician Abraham Van Helsing, owns an antique shop built over the site of Carfax Abbey in London in 2000.
9
Dracula: Dead and Loving It (1995)

Starring:
Leslie Nielsen, Mel Brooks, Peter MacNicol, Steven Weber
Genres:
Comedy, Fantasy, Horror
Dracula: Dead and Loving It is a 1995 satirical comedy horror film directed by Mel Brooks and starring Leslie Nielsen.

Starring:
Luke Evans, Dominic Cooper, Sarah Gadon, Art Parkinson
Genres:
Action, Drama, Fantasy
In 15th-century, Vlad Drăculea is the Prince of Wallachia and Transylvania.
11
Nosferatu the Vampyre (1979)

Starring:
Klaus Kinski, Isabelle Adjani, Bruno Ganz, Roland Topor
Nosferatu the Vampyre is a 1979 horror film written and directed by Werner Herzog.
12
Carry on Abroad (1972)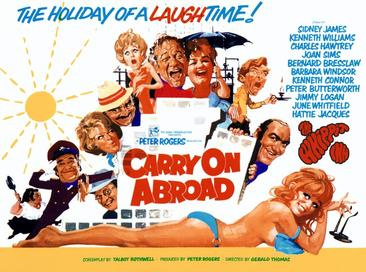 Starring:
Sidney James, Kenneth Williams, Charles Hawtrey, Joan Sims
The film opens with pub landlord and frequent holidaymaker Vic Flange (Sid James) openly flirting with the sassy saucepot widow Sadie Tompkins (Barbara Windsor) as his battleaxe wife, Cora (Joan Sims), looks on with disdain.

Starring:
Hugh Jackman, Kate Beckinsale, Richard Roxburgh, Shuler Hensley
Genres:
Action, Adventure, Fantasy
In 1887, Transylvania, Dr. Victor Frankenstein, with help from his assistant Igor and Count Dracula, successfully creates a monster.
14
Love at First Bite (1979)

Starring:
George Hamilton, Susan Saint James, Richard Benjamin, Dick Shawn
The infamous vampire Count Dracula is expelled from his castle by the Communist government of Romania, which plans to convert the structure into a training facility for gymnasts (including Nadia Comăneci).

Starring:
Frank Langella, Laurence Olivier, Donald Pleasence, Kate Nelligan
Genres:
Drama, Horror, Romance
In Whitby, England in 1913, Count Dracula arrives from Transylvania via the ship Demeter one stormy night.