Movies You Would Like to Watch If You Like Nothing but the Night (1973)
13 items, 340 votes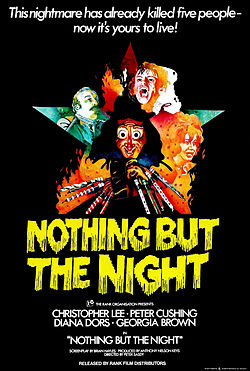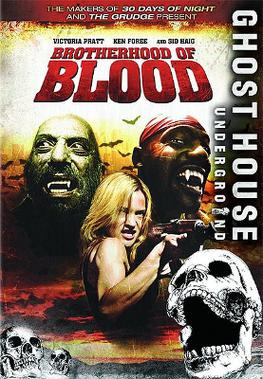 1
Brotherhood of Blood (2007)
Starring:

Victoria Pratt, Jason Connery, Ken Foree, Sid Haig

Claustrophobic thriller about a team of vampire hunters who infiltrate a nest of undead to rescue one of their own. Carrie Rieger tugs at her bonds.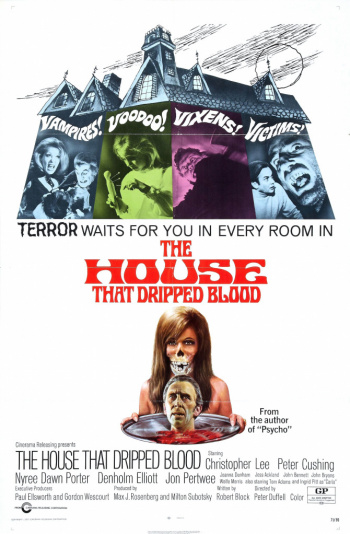 2
The House That Dripped Blood (1971)
Starring:

John Bryans, John Bennett, John Malcolm, Denholm Elliott

Framework part 1 Shortly after renting an old country house, film star Paul Henderson mysteriously disappears and Inspector Holloway (John Bennett) from Scotland Yard is called to investigate.

3
Fear in the Night (1972)
Starring:

Judy Geeson, Joan Collins, Ralph Bates, Peter Cushing

Peggy (Judy Geeson), an unassuming twenty-two year old caregiver, has recently married Robert Heller (Ralph Bates), and is scheduled to move with him to a secluded boys' boarding school south of London for his work.

4
The Creeping Flesh (1973)
Starring:

Christopher Lee, Peter Cushing, Lorna Heilbron, George Benson

Prof. Emmanuel Hildern (Peter Cushing), a Victorian era scientist, is shown meeting a young doctor in what appears to be a laboratory.

5
Madhouse (1974)
Starring:

Vincent Price, Peter Cushing, Robert Quarry, Adrienne Corri

Genres:

Crime, Horror, Mystery

Paul Toombes (Vincent Price) is a successful horror actor whose trademark role is Dr. Death, a skull-faced killer. During a party in Hollywood showing off his fifth Dr.

6
Scream and Scream Again (1970)
Starring:

Vincent Price, Christopher Lee, Peter Cushing, Judy Huxtable

Genres:

Crime, Drama, Horror

The movie's structure is fragmented, as it alternates between three distinguishable plot threads. A man jogging through suburban London grabs his heart, and collapses.

7
Dracula A.D. 1972 (1972)
Starring:

Christopher Lee, Peter Cushing, Stephanie Beacham, Christopher Neame

Dracula A. D. 1972 is a 1972 horror film, directed by Alan Gibson and produced by Hammer Film Productions.

8
I Do, They Don't (2005)
Young widow Carrie Lewellyn has a successful cookies business and four kids: Andrew, Moira, little Nathan and little Daisy.

9
To the Devil a Daughter (1976)
Starring:

Richard Widmark, Christopher Lee, Honor Blackman, Denholm Elliott

American expatriate occult writer John Verney (Widmark) is asked by Henry Beddows (Elliot) to pick up his daughter Catherine (Kinski) from London Heathrow airport.

10
Count Dracula (1970)
Starring:

Christopher Lee, Herbert Lom, Klaus Kinski, Maria Rohm

Jonathan Harker, a lawyer traveling from London to Transylvania to secure property for Count Dracula, arrives at Bistritz to stay for the night.

11
Taste the Blood of Dracula (1970)
Starring:

Christopher Lee, Geoffrey Keen, Gwen Watford, Linda Hayden

Genres:

Drama, Fantasy, Horror

A businessman named Weller is travelling through Eastern Europe when he is thrown from his carriage during a struggle and knocked unconscious.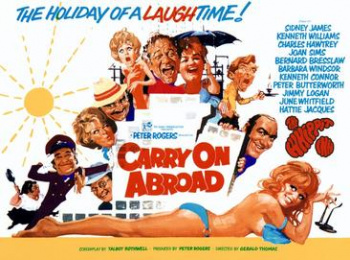 12
Carry on Abroad (1972)
Starring:

Sidney James, Kenneth Williams, Charles Hawtrey, Joan Sims

The film opens with pub landlord and frequent holidaymaker Vic Flange (Sid James) openly flirting with the sassy saucepot widow Sadie Tompkins (Barbara Windsor) as his battleaxe wife, Cora (Joan Sims), looks on with disdain.

13
The Satanic Rites of Dracula (1973)
Starring:

Christopher Lee, Peter Cushing, Michael Coles, William Franklyn

In 1974, a Secret Service agent (Maurice O'Connell) barely escapes from an English country house, in which satanic rituals are being celebrated.