Movies Like Little Women (2018)
Watch movies if you like Little Women (2018).
40 items, 1617 votes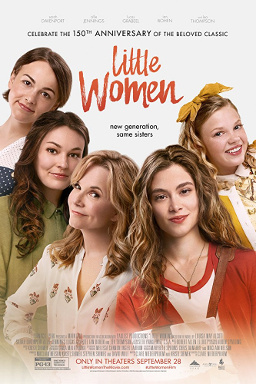 1
A Dog Named Christmas (2009)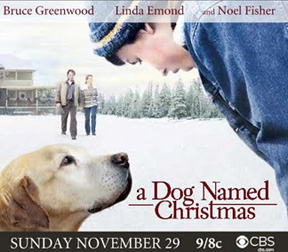 Starring:
Bruce Greenwood, Linda Emond, Noel Fisher, Ken Pogue
A tale of a young man with a learning disability, named Todd McCray (Noel Fisher) living with his parents in the rural midwest.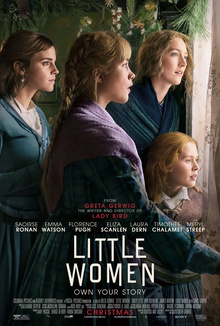 Starring:
Saoirse Ronan, Emma Watson, Florence Pugh, Eliza Scanlen
Little Women is a 2019 American coming-of-age period drama film written and directed by Greta Gerwig.
3
Literally, Right Before Aaron (2017)

Starring:
Lea Thompson, Cobie Smulders, Kristen Schaal, Justin Long
Adam and Allison were college sweethearts.

Starring:
Susan Sarandon, Winona Ryder, Kirsten Dunst, Claire Danes
Genres:
Drama, Family, Romance
The film focuses on the March sisters: responsible Meg, tempestuous Jo, tender Beth, and romantic Amy, who are growing up in Concord, Massachusetts during and after the American Civil War.
5
Best Christmas Party Ever (2014)

Starring:
Torrey DeVitto, Steve Lund, Linda Thorson, Kalinka Petrie
Genres:
Drama, Family, Romance
Jennie Stanton (Torrey DeVitto) throws the best Christmas parties every year for her company, Petra's Parties.
6
Christmas in Canaan (2009)

In the rural town of Canaan, Texas, a clash between two classmates – one, a tough farm boy, and the other, a bright bookish black boy – evolves into an unlikely friendship.

Starring:
Colm Meaney, Alberta Watson, Graham Greene, Jack Knight
Genres:
Drama, Family, Fantasy
Cody Brewer, a quiet New England fisherman isn't doing too well for himself. His wife feels neglected, and his son keeps getting picked on by the school bully.

Starring:
Cynthia Gibb, John Schneider, Jenna Boyd, Renee Ridgeley
Joel Wallace (Schneider), is a widower raising a daughter, Felice (Jenna Boyd). In her Christmas letter to Santa Claus, Felice wishes for a new mother for Christmas.

Starring:
Owen Wilson, Jennifer Aniston, Eric Dane, Kathleen Turner
Genres:
Comedy, Drama, Family
Newlyweds John and Jenny Grogan (Owen Wilson and Jennifer Aniston) escape the brutal Michigan winters and relocate to South Florida, each landing reporter jobs at competing newspapers.
10
An American Girl Holiday (2004)

Starring:
Mia Farrow, AnnaSophia Robb, Kenner Ames, Stewart Arnott
Young Samantha Parkington lives with her grandmother, "Grandmary" Edwards, in a world of wealth and privilege in fictional Mount Bedford, New York, in 1904.

Starring:
Brandon Tyler Russell, Freddie James, Peter Fonda, Mira Sorvino
Amanda leaves her son Ben with her estranged father Jack, a grumpy Iowa farmer, after he gets in trouble too many times in Chicago.
12
Our Little Sister (2015)

Starring:
Haruka Ayase, Masami Nagasawa, Kaho, Suzu Hirose
Three sisters, Sachi Kouda, Yoshino Kouda and Chika Kouda, live in the house of their grandparents in Kamakura. Their parents are divorced.
13
Christmas for a Dollar (2013)

Starring:
Brian Krause, Nancy Stafford, Danielle C. Ryan, Heather Beers
America is in the midst of the Depression, and the Kamp family is struggling to get by, especially after Mrs. Kamp's untimely death.
14
A Country Christmas Story (2013)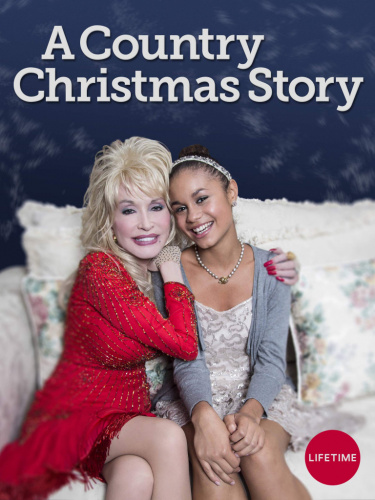 Starring:
Megyn Price, Ross McCall, Brian McKnight, Desiree Ross
Genres:
Drama, Family, Musical
Dolly Parton and Grammy Award nominated R&B singer and Producer Brian McKnight star in this Lifetime Original Movie.
15
Road to Christmas (2018)

Starring:
Jessy Schram, Teryl Rothery, Matreya Scarrwener, Chad Michael Murray
Genres:
Comedy, Drama, Family
Los Angeles television producer Maggie Baker unwittingly falls for Danny Wise, the son and former producer of his mother's popular annual Christmas special Julia Wise Lifestyle.
16
The Christmas Bunny (2010)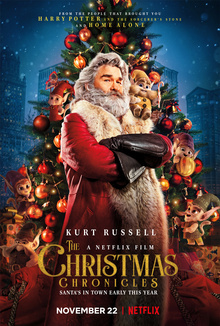 Starring:
Sophie Bolen, Madeline Vail, Colby French, Derek Brandon
The Christmas Bunny is the story of a Michigan family, facing tough economic times, who take in a withdrawn foster child, Julia (Sophie Bolen).
17
Northpole: Open for Christmas (2015)

Starring:
Lori Loughlin, Bailee Madison, Dermot Mulroney, Paul Stewart
Genres:
Drama, Family, Fantasy
A successful businesswoman, Mackenzie, inherits her beloved aunt's inn, and chooses to restore the hotel to its original grandeur only to sell it right before Christmas.
18
Christmas with Holly (2012)

Starring:
Sean Faris, Eloise Mumford, Daniel Eric Gold, Dana Watkins
Christmas with Holly is a 2012 Canadian-American made-for-TV film based on the book Christmas Eve at Friday Harbor by Lisa Kleypas.
19
A Gingerbread Romance (2018)

Starring:
Tia Mowry-Hardrict, Duane Henry, Jordana Lajoie, Giles Panton
Genres:
Drama, Family, Romance
With Christmas just weeks away, the architecture firm Taylor works for enters her in a contest in which the teams will design and build life-sized gingerbread houses.
20
The Christmas Club (2019)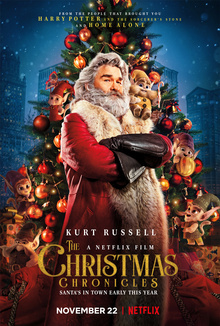 Starring:
Elizabeth Mitchell, Cameron Mathison, Zoe Fish, Jenny Pudavick
Genres:
Drama, Family, Romance
It's the approach to Christmas in New York City.