Movies You Would Like to Watch If You Like Heat (1972)
Watch these movies if you like Heat (1972).
23 items, 689 votes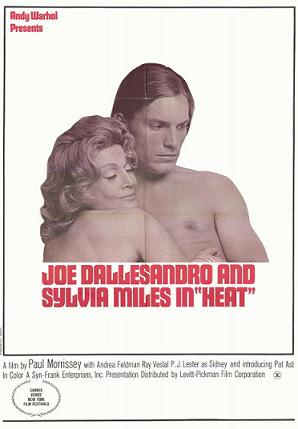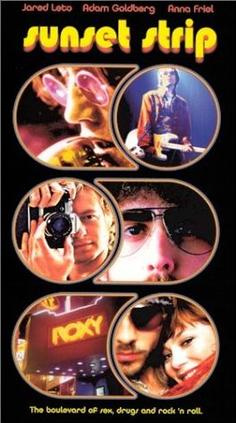 Starring:
Simon Baker, Anna Friel, Nick Stahl, Rory Cochrane
Sunset Strip tells the story of a number of music industry artists, all in the span of 24 hours on the Sunset Strip in Hollywood. Michael secretly pines for Tammy.
2
The Happy Hooker Goes Hollywood (1980)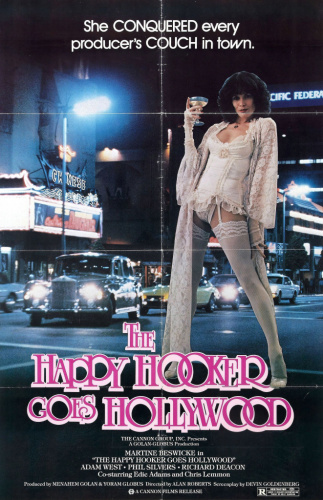 Starring:
Martine Beswick, Chris Lemmon, Adam West, Richard Deacon
The Happy Hooker Goes Hollywood, originally released in the UK as Hollywood Blue, is a 1980 American comedy film directed by Alan Roberts and starring Martine Beswick, Adam West, Phil Silvers, Chris Lemmon, Edie Adams, and Richard Deacon.
3
Going Down in LA-LA Land (2011)

Starring:
Matthew Ludwinski, Allison Lane, Michael Medico, Casper Andreas
Genres:
Comedy, Drama, Romance
Unable to find paying work as an actor in New York, Adam (Matthew Ludwinski) decides to try Los Angeles.

Starring:
Julie Andrews, William Holden, Marisa Berenson, Larry Hagman
The story is a satire of the film industry and Hollywood society.

Starring:
Pia Zadora, Lloyd Bochner, Bibi Besch, Joseph Cali
Jerilee Randall is an innocent schoolgirl living in the San Fernando Valley area of California with dreams of becoming a famous screenwriter.

Starring:
James Coco, Raquel Welch, Perry King, Tiffany Bolling
The year is 1929 and talking films are coming in.

Starring:
William Holden, Marthe Keller, Hildegard Knef, José Ferrer
One of the great movie stars of the century, the reclusive foreign-born Fedora, is known in Hollywood for inexplicably retaining her youthful beauty over the course of a career spanning decades: she looked no older in her last film than she did in her first.

Starring:
Kevin Bacon, Jennifer Jason Leigh, Emily Longstreth, J.T. Walsh
Genres:
Comedy, Drama, Romance
Film student and would-be writer/director Nick Chapman, a native of the Midwest, finds himself the winner of a prestigious student film contest in LA.
9
Quiet Days in Hollywood (1997)

Starring:
Hilary Swank, Peter Dobson, Daryl Mitchell, Meta Golding
The plot features a series of interlocking stories. Each vignette is introduced with a character that had sex with someone in the previous segment.
10
The Harrad Experiment (1973)

Starring:
Don Johnson, James Whitmore, Tippi Hedren, Bruno Kirby
Genres:
Comedy, Drama, Romance
The Harrad Experiment is a 1973 coming-of-age film about a fictional school called Harrad College where the students learn about sexuality and experiment with each other.

Starring:
Marguerite Moreau, Brían F. O'Byrne, Naveen Andrews, Emily Deschanel
Genres:
Comedy, Drama, Romance
Jamie Harris is a neurotic, bright 25 year-old with a career naming peculiar consumer products.
12
The Unauthorized Saved by the Bell Story (2014)

Starring:
Sam Kindseth, Dylan Everett, Tiera Skovbye, Julian Works
Genres:
Biography, Comedy, Drama
The Unauthorized Saved by the Bell Story delves into the experiences of six unknown young actors placed into the Hollywood spotlight, exposing the challenges of growing up under public scrutiny while trying to maintain the squeaky-clean image of their popular characters both on and off-screen.

Starring:
Douglas Spain, Efrain Figueroa, Kandeyce Jorden, Martha Velez
Star Maps is a 1997 American drama film co-written and directed by Miguel Arteta and starring Douglas Spain.
14
I'll Do Anything (1994)

Starring:
Nick Nolte, Albert Brooks, Whittni Wright, Julie Kavner
In 1980, on the night he fails to win an Emmy Award, Matt Hobbs proposes to his longtime girlfriend Beth.

Starring:
Adrian Grenier, Kevin Connolly, Jerry Ferrara, Kevin Dillon
Vincent Chase, who separated from his wife after nine days of marriage, wants to do something new in his career.

Starring:
Scott Gurney, Michael Cunio, Roxanne Day, Taylor Negron
Genres:
Comedy, Drama, Romance
Sean McGinnis is a film student who moves to Los Angeles to break into the movie business.

Starring:
Steve Buscemi, Michael Pitt, Alison Lohman, Gina Gershon
Genres:
Comedy, Drama, Romance
Toby and Les meet when Toby interrupts a crowd of paparazzi waiting to take pictures of pop diva K'harma Leeds (Allison Lohman).

Starring:
Anne Parillaud, Grégoire Colin, Roxane Mesquida, Ashley Wanninger
Genres:
Comedy, Drama, Romance
Sex Is Comedy is a 2002 French film written and directed by Catherine Breillat.
19
Women in Revolt (1971)

Starring:
Candy Darling, Jackie Curtis, Holly Woodlawn, Jonathan Kramer
Women In Revolt, also known as Andy Warhol's Women in Revolt, is a 1971 satire film produced by Andy Warhol and directed by American filmmaker Paul Morrissey.
20
Once Is Not Enough (1975)

Starring:
Kirk Douglas, Alexis Smith, David Janssen, George Hamilton
January Wayne, the sheltered, much-loved daughter of a formerly successful Hollywood producer, goes home to New York after a lengthy stint in a Swiss hospital.