Movies Most Similar to Carry on Henry VIII (1971)
Movies similar to Carry on Henry VIII (1971).
14 items, 364 votes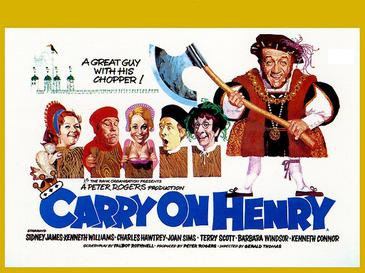 1
That's Carry On! (1977)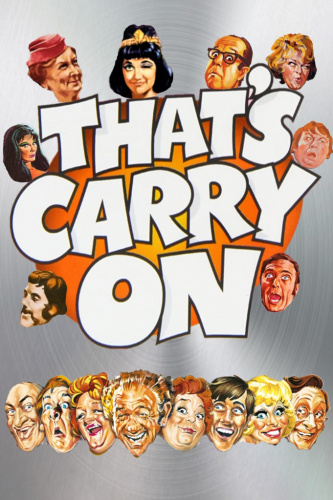 Kenneth Williams and Barbara Windsor are imprisoned in a Pinewood Studios projection room and trawl through film can after film can of the Carry On series.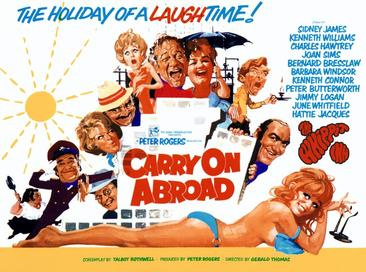 Starring:
Sidney James, Kenneth Williams, Charles Hawtrey, Joan Sims
The film opens with pub landlord and frequent holidaymaker Vic Flange (Sid James) openly flirting with the sassy saucepot widow Sadie Tompkins (Barbara Windsor) as his battleaxe wife, Cora (Joan Sims), looks on with disdain.

Various events involve a dating agency run by Sid Bliss (Sid James) and his longtime girlfriend Sophie Plummett (Hattie Jacques).

Genres:
Adventure, Comedy
In the year 1750, England is rife with crime and highway robbers.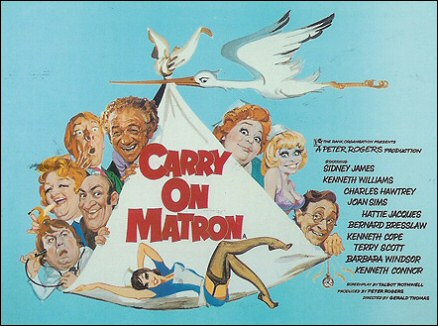 Starring:
Sidney James, Kenneth Williams, Charles Hawtrey, Joan Sims
Carry On Matron is a 1972 British comedy film, the 23rd release in the series of 31 Carry On films (1958–1992). It was released in May 1972.
6
The Triumph of Love (2001)

Starring:
Mira Sorvino, Ben Kingsley, Rachael Stirling, Jay Rodan
Triumph of Love is a 2001 romantic comedy film, based on Marivaux's 1732 play of the same name.
7
Carry on Up the Jungle (1970)

Starring:
Frankie Howerd, Sidney James, Charles Hawtrey, Joan Sims
Genres:
Adventure, Comedy
Camp ornithologist Professor Inigo Tinkle (Frankie Howerd) tells a less-than-enraptured audience about his most recent ornithological expedition to the darkest, most barren regions of the African wilds in search for the legendary Oozlum bird, which is said to fly in ever decreasing circles until it disappears up its own rear end.

Starring:
Elke Sommer, Kenneth Williams, Bernard Bresslaw, Kenneth Connor
Frustrated butcher Fred Ramsden (Windsor Davies) and his dim electrician friend Ernie Bragg (Jack Douglas) happily head off for a holiday trip at the Riverside Caravan Site, while their respective wives Sylvia (Liz Fraser) and Vera (Patricia Franklin) look forward to their health farm holiday.

Starring:
Sidney James, Barbara Windsor, Joan Sims, Kenneth Connor
The seaside town of Fircombe is facing a crisis – it's always raining and there's nothing for the tourists to do.
10
Carry on at Your Convenience (1971)

Starring:
Sidney James, Kenneth Williams, Charles Hawtrey, Joan Sims
In bathroom ceramics factory W. C. Boggs & Son, the traditionalist owner W. C. Boggs (Kenneth Williams) is having no end of trouble.
11
Seems Like Old Times (1980)

Starring:
Goldie Hawn, Chevy Chase, Charles Grodin, Robert Guillaume
Nick Gardenia (Chevy Chase), an out-of-luck writer, has the use of a friend's oceanside cabin in Big Sur, California.
12
Bless This House (1972)

Starring:
Sidney James, Diana Coupland, Sally Geeson, Peter Butterworth
In contemporary suburbia, somewhere in southern England, middle-aged home-owner Sid Abbot (Sid James) just wants to lie on his settee and snooze.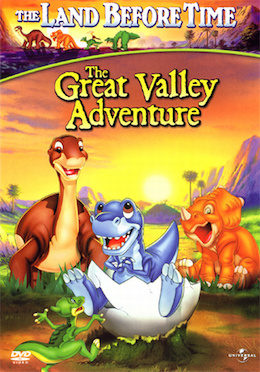 Starring:
Jean-Paul Belmondo, Sophie Marceau, Marie Laforêt, Rosy Varte
Happy Easter (French: Joyeuses Pâques) is a 1984 French comedy film directed by Georges Lautner.
14
Run for Your Wife (2012)

Starring:
Danny Dyer, Denise Van Outen, Sarah Harding, Neil Morrissey
The story of London cab driver John Smith, with two wives, two lives and a very precise schedule for juggling them both.