Most Similar Movies to Carry on Matron (1972)
Watch these movies if you like Carry on Matron (1972).
18 items, 750 votes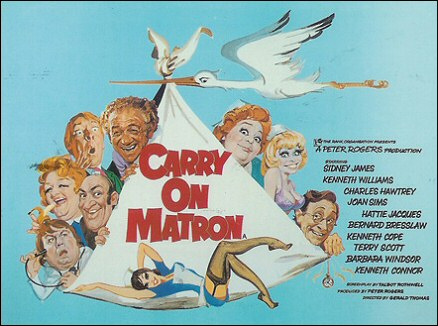 1
Carry on Henry VIII (1971)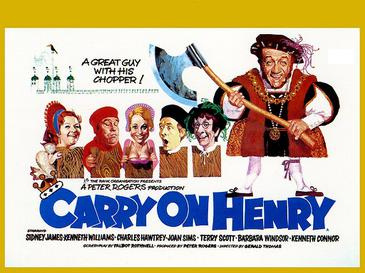 Starring:
Sidney James, Kenneth Williams, Charles Hawtrey, Joan Sims
The film opens with a passage, which states: This film is based on a recently discovered manuscript by one William Cobbler, which reveals that Henry VIII did in fact have two more wives.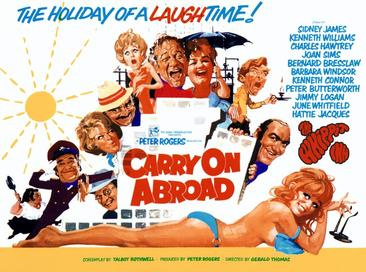 Starring:
Sidney James, Kenneth Williams, Charles Hawtrey, Joan Sims
The film opens with pub landlord and frequent holidaymaker Vic Flange (Sid James) openly flirting with the sassy saucepot widow Sadie Tompkins (Barbara Windsor) as his battleaxe wife, Cora (Joan Sims), looks on with disdain.
3
Carry on Up the Jungle (1970)

Starring:
Frankie Howerd, Sidney James, Charles Hawtrey, Joan Sims
Genres:
Adventure, Comedy
Camp ornithologist Professor Inigo Tinkle (Frankie Howerd) tells a less-than-enraptured audience about his most recent ornithological expedition to the darkest, most barren regions of the African wilds in search for the legendary Oozlum bird, which is said to fly in ever decreasing circles until it disappears up its own rear end.
4
Love, Honor and Obey (2000)

Starring:
Sadie Frost, Jonny Lee Miller, Jude Law, Ray Winstone
Love, Honour and Obey is a 2000 mock gangster film starring several members of the Primrose Hill set.

Starring:
Sam Rockwell, Steve Zahn, Michael Lerner, Paul Giamatti
Safe Men is a 1998 American criminal comedy film written and directed by John Hamburg (in his directorial debut), and stars Sam Rockwell and Steve Zahn as a pair of aspiring lounge singers who are mistaken for ace safe crackers, and get mixed up with a Jewish mobster, Big Fat Bernie Gayle (Michael Lerner) and Big Fat's intern, Veal Chop (Paul Giamatti).

Starring:
Eric Idle, Robbie Coltrane, Camille Coduri, Janet Suzman
After their boss is killed during a bank heist, London gangsters Brian Hope (Idle) and Charlie McManus (Coltrane) desire to lead more peaceful lives in Brazil, disapproving of their new younger and more brash boss, Casey (Patterson).

Starring:
Norm MacDonald, Dave Chappelle, Elaine Stritch, Danny DeVito
Willard (Norm Macdonald) is an overworked, underpaid chauffeur who works for a mean-spirited pie heiress named Mrs.

Starring:
Hilary Swank, Chloë Sevigny, Peter Sarsgaard, Brendan Sexton III
Genres:
Biography, Crime, Drama
Based on actual events. Brandon Teena is the popular new guy in a tiny Nebraska town.

Starring:
Sylvester Stallone, Ornella Muti, Peter Riegert, Chazz Palminteri
In the prologue, gangster Angelo "Snaps" Provolone promises his dying father that he will give up a life of crime, and instead "go straight".
10
Carry on Loving (1970)

Various events involve a dating agency run by Sid Bliss (Sid James) and his longtime girlfriend Sophie Plummett (Hattie Jacques).
11
Carry on at Your Convenience (1971)

Starring:
Sidney James, Kenneth Williams, Charles Hawtrey, Joan Sims
In bathroom ceramics factory W. C. Boggs & Son, the traditionalist owner W. C. Boggs (Kenneth Williams) is having no end of trouble.
12
Carry on Behind (1975)

Starring:
Elke Sommer, Kenneth Williams, Bernard Bresslaw, Kenneth Connor
Frustrated butcher Fred Ramsden (Windsor Davies) and his dim electrician friend Ernie Bragg (Jack Douglas) happily head off for a holiday trip at the Riverside Caravan Site, while their respective wives Sylvia (Liz Fraser) and Vera (Patricia Franklin) look forward to their health farm holiday.

Genres:
Adventure, Comedy
In the year 1750, England is rife with crime and highway robbers.

Starring:
Sidney James, Barbara Windsor, Joan Sims, Kenneth Connor
The seaside town of Fircombe is facing a crisis – it's always raining and there's nothing for the tourists to do.

Starring:
Bill Murray, Geena Davis, Randy Quaid, Dale Grand
Grimm (Bill Murray), dressed as a clown, robs a bank in midtown Manhattan.
16
Carry on England (1976)

Starring:
Kenneth Connor, Windsor Davies, Judy Geeson, Patrick Mower
Captain S Melly (Kenneth Connor) is put in charge of an experimental mixed-battery during the darkest days of the Second World War.
17
The Pink Panther Strikes Again (1976)

Starring:
Peter Sellers, Herbert Lom, Lesley-Anne Down, Burt Kwouk
At a psychiatric hospital, former Chief Inspector Charles Dreyfus (Herbert Lom) is largely recovered from his obsession to kill the new Chief Inspector Jacques Clouseau (Peter Sellers) and is about to be released when Clouseau, arriving to speak on Dreyfus' behalf, within minutes drives Dreyfus insane again.
18
Carry on Emmannuelle (1978)

Starring:
Kenneth Williams, Suzanne Danielle, Kenneth Connor, Joan Sims
Emmannuelle Prévert (Suzanne Danielle) relieves the boredom of a flight on Concorde by seducing timid Theodore Valentine (Larry Dann).