Movies to Watch If You Like Straight Up (2019)
Watch movies if you like Straight Up (2019).
19 items, 523 votes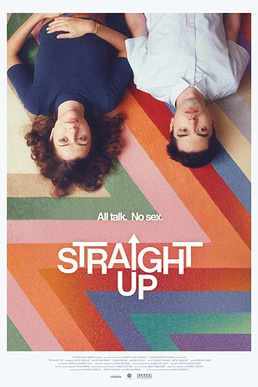 1
A Four Letter Word (2007)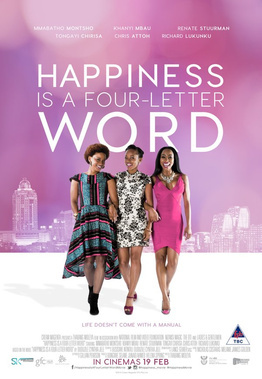 Starring:
Jesse Archer, Paul Haje, Charlie David, Cory Grant
Six people in New York are adrift. Zeke and Luke work in a sex shop: Zeke takes gay liberation seriously, Luke likes to sparkle and takes nothing seriously.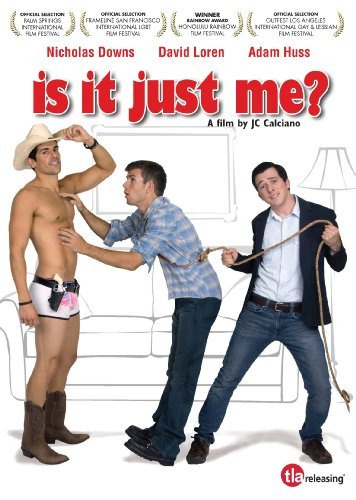 Starring:
Nicholas Downs, David Loren, Adam Huss, Michelle Laurent
Is It Just Me? is a gay-themed film written and directed by J. C Calcino.
3
Slightly Single in L.A. (2013)

Starring:
Lacey Chabert, Kip Pardue, Jenna Dewan, Carly Schroeder
Dale (Chabert) a television producer for a reality TV show, has had a poor history of dating.
4
Billy's Hollywood Screen Kiss (1998)

Starring:
Sean Hayes, Brad Rowe, Armando Valdes-Kennedy, Mr. Dan
Billy Collier (Sean P. Hayes) is an aspiring photographer in Los Angeles who has had little artistic success and much romantic frustration.
5
Eating Out 2: Sloppy Seconds (2006)

Starring:
Jim Verraros, Emily Brooke Hands, Rebekah Kochan, Brett Chukerman
Kyle (Jim Verraros) breaks up with Marc (Brett Chukerman), his love interest from the first movie, accusing him of flirting with hotter men.
6
Prince of Bel Air (1986)

Prince of Bel Air is a 1986 American made-for-television romantic comedy film starring Mark Harmon, Kirstie Alley, and Robert Vaughn.

Starring:
Taylor Handley, Dustin Seavey, Alison Folland, Kyle Schmid
"Zerophilia" is a fictional condition that affects an unknown number of people with an extra "Z" chromosome.

Starring:
Jonathan Bray, Jonathan Silverman, Wilson Cruz, Giovanni Ortega
Coffee Date is a 2006 independent film written and directed by Stewart Wade and released by BrownBag Productions.

Starring:
Nick Robinson, Jennifer Garner, Josh Duhamel, Katherine Langford
Genres:
Comedy, Drama, Romance
Simon Spier is a closeted gay high school boy living in a suburb of Atlanta, Georgia.

Starring:
Julia Roberts, David Hyde Pierce, David Duchovny, Nicky Katt
Full Frontal is a 2002 film by Steven Soderbergh about a day in the life of a handful of characters in Hollywood.
11
East Side Story (2006)

Starring:
René Alvarado, David Berón, Gladise Jiminez, Steve Callahan
East Side Story is the story of Diego (René Alvarado), a young, closeted Latino, who helps his grandmother (Irene DeBari) run the family restaurant while carrying on a relationship with equally closeted Pablo (David Berón).
12
In Search of a Midnight Kiss (2007)

Starring:
Scoot McNairy, Sara Simmonds, Brian McGuire, Kathleen Luong
Wilson (Scoot McNairy), a 29-year-old man who has just endured the most miserable year of his life, newly arrived in the City of Angels, is alone and penniless as New Year's Eve approaches.
13
Three of Hearts (1993)

Starring:
William Baldwin, Kelly Lynch, Sherilyn Fenn, Joe Pantoliano
It involves a love triangle: a straight gigolo Joe (William Baldwin), his lesbian best friend Connie (Kelly Lynch), and her former lover, an attractive bisexual woman Ellen (Sherilyn Fenn).

Starring:
Dustin Milligan, Luke Bracey, Emily Meade, Kyle Bornheimer
Twentysomething drifter Cory arrives in Los Angeles to help his semi-famous TV star friend Brendan take his first steps out of "The Closet".
15
The 40-year-old Virgin (2005)

Starring:
Steve Carell, Catherine Keener, Paul Rudd, Romany Malco
40-year-old Andy Stitzer is an employee of electronics store Smart Tech and lives alone in his apartment with his collection of action figures and video games.

Starring:
Jon Paul Phillips, Thure Riefenstein, Greg Audino, Diosiq Burné
Genres:
Comedy, Drama, Romance
A story of love, greed - and moisturizer.
17
Already Tomorrow in Hong Kong (2015)

Starring:
Jamie Chung, Bryan Greenberg, Richard Ng, Sarah Lian
Outside a bar, Ruby Lin (Jamie Chung), an American children's toy designer temporarily in Hong Kong, makes plans over her phone to meet her friends at another bar.

Attorney Phillip Reed is tired of one-night stands. At the zoo, he meets Gloria Franklin, who is getting married in two weeks. She tells him her name is Marsha Lyons.
19
All Over the Guy (2001)

Starring:
Dan Bucatinsky, Richard Ruccolo, Sasha Alexander, Adam Goldberg
All Over the Guy is about Eli (Dan Bucatinsky) and Tom (Richard Ruccolo).