Movies Like Ciao Manhattan (1972)
26 items, 818 votes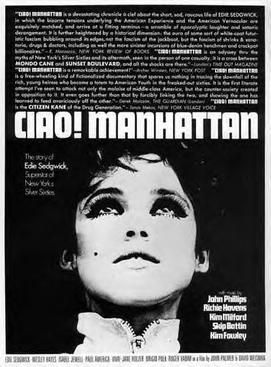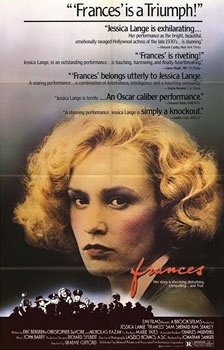 1
Frances (1982)
Starring:

Jessica Lange, Sam Shepard, Kim Stanley, Bart Burns

Genres:

Biography, Drama, Romance

Born in Seattle, Washington, Frances Elena Farmer is a rebel from a young age, winning $100 in 1931 from The Scholastic Art and Writing Awards for a high school essay called God Dies.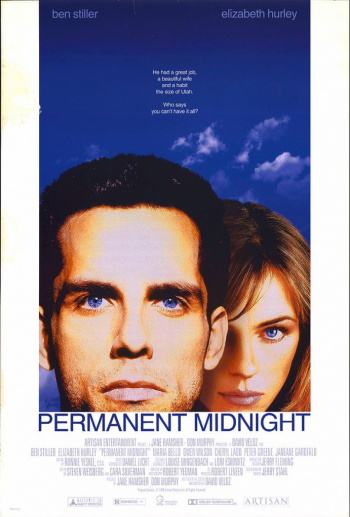 2
Permanent Midnight (1998)
Starring:

Ben Stiller, Maria Bello, Jay Paulson, Spencer Garrett

Genres:

Biography, Drama, Romance

Permanent Midnight is a 1998 independent drama film directed by David Veloz and starring Ben Stiller.

3
The Color of Time (2012)
Starring:

James Franco, Mila Kunis, Jessica Chastain, Zach Braff

Genres:

Biography, Drama, Romance

The different parts of Pulitzer Prize winner C. K. Williams' life told through his poems.

4
The Boost (1988)
Starring:

James Woods, Sean Young, John Kapelos, Steven Hill

Lenny Brown (James Woods) is a real-estate hustler looking to strike it rich. He is married to Linda, (Sean Young) a paralegal and amateur dancer.

5
I Shot Andy Warhol (1996)
Starring:

Lili Taylor, Jared Harris, Martha Plimpton, Lothaire Bluteau

The film opens immediately after the shooting at The Factory in 1968, followed by Valerie Solanas being shown in custody for shooting Andy Warhol.

6
Gia (1998)
Starring:

Angelina Jolie, Faye Dunaway, Elizabeth Mitchell, Mercedes Ruehl

Genres:

Biography, Drama, Romance

Gia Carangi is a Philadelphia native who moves to New York City to become a fashion model, and immediately catches the attention of powerful agent Wilhelmina Cooper.

7
Basquiat (1996)
Starring:

Jeffrey Wright, Michael Wincott, Benicio Del Toro, Claire Forlani

The film is a lightly fictionalised account of Basquiat's life.

8
Big Sur (2013)
Starring:

Jean-Marc Barr, Kate Bosworth, Josh Lucas, Radha Mitchell

Jack Kerouac, coming off the recent success of On the Road, is unable to cope with a suddenly demanding public and his rise in popularity, and begins battling with advanced alcoholism as a result.

9
Piñero (2001)
Starring:

Benjamin Bratt, Giancarlo Esposito, Talisa Soto, Nelson Vasquez

Piñero is a 2001 American biopic about the troubled life of Nuyorican poet and playwright Miguel Piñero, starring Benjamin Bratt as the title character.

10
The Last of Robin Hood (2013)
Starring:

John Hudson Messerall, Brian Bascle, Daniel J. Clancy, Kelly O'Neal

Genres:

Biography, Drama, Romance

The Last of Robin Hood is a 2013 American independent biographical drama film about actor Errol Flynn directed and written by Richard Glatzer and Wash Westmoreland.

11
Mommie Dearest (1981)
Starring:

Faye Dunaway, Diana Scarwid, Steve Forrest, Howard Da Silva

Joan Crawford is a driven actress and compulsively clean housekeeper who tries controlling the lives of those around her as tightly as she controls herself.

12
What We Do Is Secret (2007)
Starring:

Shane West, Rick Gonzalez, Bijou Phillips, Noah Segan

Genres:

Biography, Drama, Music

Jan Paul Beahm (Shane West) grows up in Los Angeles through a troubled childhood; he does not know his biological father, his mother is an alcoholic, and his older brother dies from a heroin overdose.

13
Self Medicated (2005)
Starring:

Monty Lapica, Diane Venora, Michael Bowen, Greg Germann

On the edges of Las Vegas, 17-year-old Andrew's life is spiraling out of control.

14
House of Versace (2013)
Starring:

Gina Gershon, Enrico Colantoni, Colm Feore, Donna Murphy

The film is about Italian fashion designer and company founder Gianni Versace, whose career is outstanding.

15
Factory Girl (2006)
Starring:

Sienna Miller, Guy Pearce, Hayden Christensen, Jimmy Fallon

The film is framed by Edie Sedgwick (Sienna Miller) being interviewed in a hospital several years after her time as an Andy Warhol superstar.

16
Anna Nicole (2007)
Starring:

Willa Ford, Patrick Ryan Anderson, Richard Herd, Lesli Kay

The Anna Nicole Smith Story (working title: Anna Nicole: The Movie) is a 2009 biographical film depicting the life of Anna Nicole Smith, released on DVD on September 22, 2009.

17
Hemingway & Gellhorn (2012)
Starring:

Nicole Kidman, Clive Owen, David Strathairn, Rodrigo Santoro

Genres:

Biography, Drama, Romance

Telling the story of one of America's most famous literary couples, the movie begins in 1936 when the pair meet for the first time in a chance encounter in a Key West bar in Florida.

18
Steal This Movie (2000)
Starring:

Vincent D'Onofrio, Janeane Garofalo, Jeanne Tripplehorn, Kevin Pollak

Genres:

Biography, Drama, Romance

Steal This Movie! is a 2000 American biographical film directed by Robert Greenwald and written by Bruce Graham, based on two books: To America with Love: Letters From the Underground by Anita and Abbie Hoffman and Abbie Hoffman: American Rebel by Marty Jezer.

19
Why Do Fools Fall in Love (1998)
Starring:

Halle Berry, Vivica A. Fox, Lela Rochon, Larenz Tate

Genres:

Biography, Drama, Music

Lymon was 13 years old when the teenage group Frankie Lymon & the Teenagers erupted from radios and jukeboxes with their 1956 hit "Why Do Fools Fall in Love?" and appeared in the movie Rock, Rock, Rock (1956).

20
Whitney (2015)
Starring:

Yaya DaCosta, Arlen Escarpeta, Yolonda Ross, Suzzanne Douglas

Whitney is a 2015 American biographical film directed by Angela Bassett based on American recording artist Whitney Houston and her turbulent marriage to R&B artist Bobby Brown that premiered on Lifetime in North America on January 17, 2015.