Movies Like the Gang That Couldn't Shoot Straight (1971)
Movies like The Gang That Couldn't Shoot Straight (1971).
19 items, 533 votes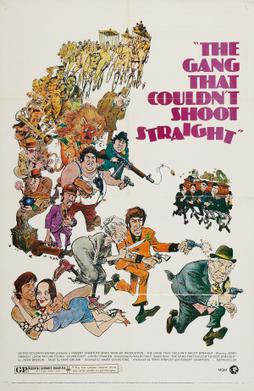 1
The Last Godfather (2010)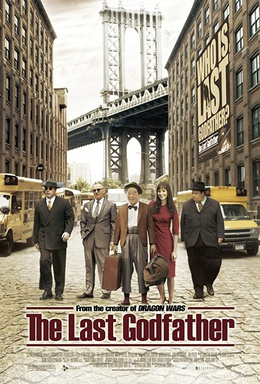 Starring:
Jason Mewes, Harvey Keitel, Jocelin Donahue, Debra Mooney
Genres:
Comedy, Crime, Romance
The Last Godfather (Korean: 라스트 갓파더; RR: Laseuteu Gatpadeo) is a 2010 mafia comedy film directed by Shim Hyung-rae.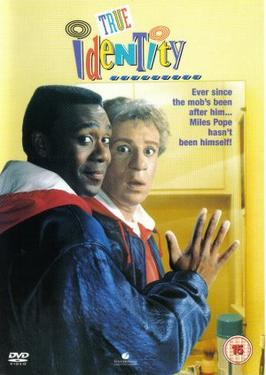 Starring:
Lenny Henry, Frank Langella, Charles Lane, J.T. Walsh
A struggling black actor named Miles Pope is on a plane ride home from a failed acting audition.
3
Johnny Dangerously (1984)

Starring:
Michael Keaton, Joe Piscopo, Marilu Henner, Maureen Stapleton
The story begins in the year 1935. A pet shop owner catches a young boy shoplifting a puppy.
4
Malibu's Most Wanted (2003)

Starring:
Jamie Kennedy, Ryan O'Neal, Blair Underwood, Taye Diggs
The film centers on the family life of Bill Gluckman (Ryan O'Neal), a wealthy Jewish senator from Malibu, California who is running for the office of Governor of California.
5
A Rage in Harlem (1991)

Starring:
Forest Whitaker, Gregory Hines, Robin Givens, Zakes Mokae
A black gangster's beautiful moll flees to Harlem with a trunk full of gold after a shootout, unaware that the rest of the gang, and a few other unsavory characters, are on her trail.
6
The Umbrella Coup (1980)

Starring:
Pierre Richard, Valérie Mairesse, Christine Murillo, Gordon Mitchell
Genres:
Adventure, Comedy, Crime
The unsuccessful actor Grégoire Lecomte is heading for a casting but then he takes a wrong turn.

Starring:
John G. Brennan, Kamal Ahmed, Alan Arkin, William Hickey
The film opens in a New York police station as a pair of "low-lifes from Queens" named Johnny B.
8
Even Angels Eat Beans (1973)

Starring:
Giuliano Gemma, Bud Spencer, Robert Middleton, Bill Vanders
Genres:
Action, Comedy, Crime
New York, 1930s. Sonny is a former ice cream man who fell on hard luck. While working as a cleaner in a gym, he meets Charlie Smith, a wrestler.

Starring:
Danny DeVito, Joe Piscopo, Harvey Keitel, Ray Sharkey
Italian American Harry Valentini and his Jewish friend and next-door neighbor Moe Dickstein occupy the bottom rung of Newark Mafia boss Anthony Castelo's gang.

Starring:
Richard Dreyfuss, Burt Reynolds, Dan Hedaya, Seymour Cassel
Four retired mobsters Bobby (Richard Dreyfuss) - the straight man leader, Bats (Burt Reynolds) - a cantankerous man with a short fuse and a pacemaker, Mouth (Seymour Cassel) - a silent ladies man many years past his prime, and Brick (Dan Hedaya) - a nice but dimwitted man plan one last crime to save their apartment at a retirement home (the owners are forcing them out with a rent increase so that the apartments can be rented to young, affluent South Beach couples).

Starring:
Peter Falk, Dianne Wiest, Emily Lloyd, Michael V. Gazzo
Cookie Voltecki (Emily Lloyd) jumps the turnstiles with her friend and is caught by transit security who fine her and bring her to court.
12
The Whole Nine Yards (2000)

Starring:
Bruce Willis, Matthew Perry, Rosanna Arquette, Michael Clarke Duncan
Nicholas "Oz" Oseransky (Matthew Perry) is a likable Quebec dentist from Chicago, but is hated by his wife Sophie (Rosanna Arquette) and mother-in-law (Carmen Ferland).

Starring:
Steve Martin, Rick Moranis, Joan Cusack, Melanie Mayron
Vinnie Antonelli is a former mobster recently inducted into the Witness Protection Program with his wife, Linda. The two are under the watchful eye of Barney Coopersmith.
14
Who Do I Gotta Kill? (1994)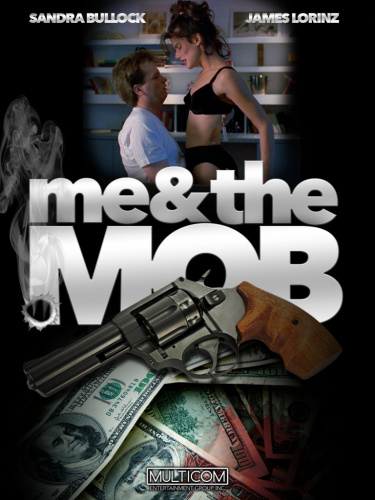 Starring:
Sandy Colosimo, James Lorinz, Stephen Lee, Vincent Pastore
Who Do I Gotta Kill? (also known as Me & the Mob) is a 1994 comedy film directed and co-written by Frank Rainone with James Lorinz and Rocco Simonelli also writing.

Starring:
George C. Scott, Joanna Cassidy, Sorrell Booke, G. Wood
A bank, temporarily housed in a mobile home while a new building is built, looks like an easy target to break into.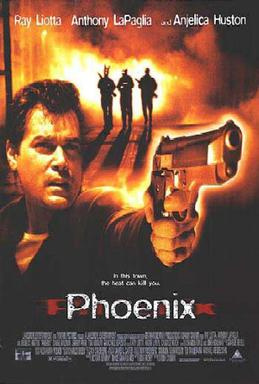 Starring:
Rodney Dangerfield, Kevin McDonald, Dom DeLuise, Fabiana Udenio
The Godson is a 1998 comedy film directed by Bob Hoge, starring Rodney Dangerfield, Kevin McDonald and Dom DeLuise.

Starring:
Jodie Foster, Scott Baio, Florence Garland, John Cassisi
Genres:
Comedy, Crime, Family
Bugsy Malone is a 1976 gangster musical comedy film written and directed by Alan Parker. The film was Parker's feature film directorial debut.
18
Carry on Abroad (1972)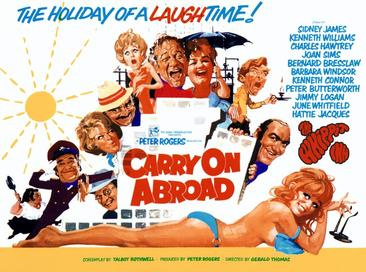 Starring:
Sidney James, Kenneth Williams, Charles Hawtrey, Joan Sims
The film opens with pub landlord and frequent holidaymaker Vic Flange (Sid James) openly flirting with the sassy saucepot widow Sadie Tompkins (Barbara Windsor) as his battleaxe wife, Cora (Joan Sims), looks on with disdain.
19
Bullets Over Broadway (1994)

Starring:
John Cusack, Dianne Wiest, Jennifer Tilly, Chazz Palminteri
Bullets over Broadway is a 1994 American black comedy crime film directed by Woody Allen, written by Allen and Douglas McGrath and starring an ensemble cast including John Cusack, Dianne Wiest, Chazz Palminteri and Jennifer Tilly.