Movies Similar to Sometimes a Great Notion (1971)
Movies like Sometimes a Great Notion (1971).
18 items, 519 votes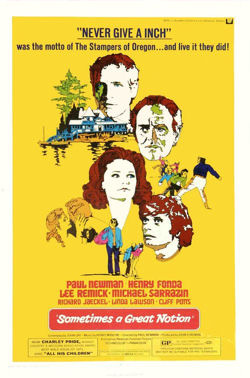 1
Prince of Central Park (2000)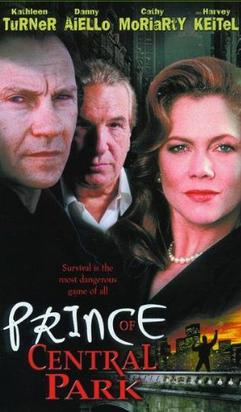 Starring:
Kathleen Turner, Danny Aiello, Cathy Moriarty, Frankie Nasso
Genres:
Action, Adventure, Drama
12-year-old J. J. Somerled (Frankie Nasso) runs away because his mother died and he has been placed in the care of an abusive foster mother.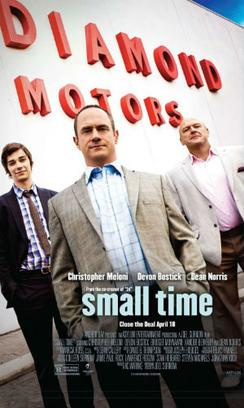 Starring:
Christopher Meloni, Devon Bostick, Dean Norris, Bridget Moynahan
Small Time is a 2014 American comedy film written and directed by Joel Surnow.

Starring:
Paul Newman, Robby Benson, Ellen Barkin, Wilford Brimley
Widower Harry Keach is a construction worker in Southern Florida who was raised to appreciate the importance of working for a living.
4
Mississippi Damned (2009)

Starring:
Adam Clark, Malcolm Goodwin, Michael Hyatt, Malcolm David Kelley
Taking place in 1986 and 1998 and based on a true story, three poor black kids in rural Mississippi reap the consequences of their family's cycle of abuse, addiction, and violence.

Starring:
Omar Sharif, Leigh Taylor-Young, Jack Palance, Peter Jeffrey
Genres:
Action, Adventure, Drama
Uraz (Omar Sharif), the son of Tursen (Jack Palance), the stable master and retired buzkashi player for a feudal lord, is a master horseman who lives by a primitive code of honor.
6
White Irish Drinkers (2010)

White Irish Drinkers is a 2010 American drama film written and directed by John Gray and starring Nick Thurston and Geoffrey Wigdor.

Starring:
Kris Kristofferson, Jan-Michael Vincent, Victoria Principal, Bernadette Peters
Genres:
Action, Adventure, Crime
A small California town is overrun with unruly and rowdy behavior from oil-field workers.
8
Multiple Sarcasms (2010)

Starring:
Timothy Hutton, Mira Sorvino, Dana Delany, Mario Van Peebles
Gabriel (Timothy Hutton) is a man who, on the surface, has a perfect life: successful career as an architect, a beautiful wife, and a devoted young daughter.

Starring:
James Franco, Vince Jolivette, Wilmer Calderon, Trip Hope
Two genius brothers grow up and grow apart as one becomes a successful surgeon and the other pursues a drug-fueled high life.

Starring:
Kris Kristofferson, Charlie McDermott, Gary Farmer, William Sanderson
Genres:
Action, Adventure, Drama
Quebec Bill Bonhomme is a hardy schemer and dreamer, who, desperate to raise money to preserve his endangered herd through the rapidly approaching winter, resorts to whiskey-smuggling, a traditional family occupation.

Starring:
Ulrich Tukur, Samuel Schneider, Hafsia Herzi, Marie-Lou Sellem
Exit Marrakech is a 2013 German drama film written and directed by Caroline Link.

Starring:
Nathan Grubbs, Marc Senter, Bryan Batt, Michael Bowen
In New Orleans, the Fontaine family name echoes the streets within both the traditional boxing community and the illegal underground fight world.
13
Children of Invention (2009)

Starring:
Cindy Cheung, Michael Chen, Crystal Chiu, Stephen Gevedon
The first half of the movie centers around Elaine Cheng (played by Cindy Cheung), a single mother and immigrant living in the Boston suburbs, and the life she provides for her two children (played by Michael Chen and Crystal Chiu).
14
Carry on Abroad (1972)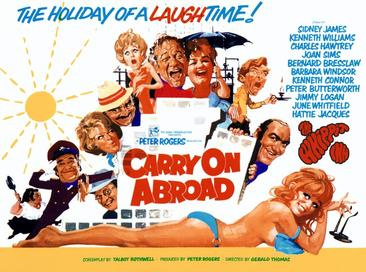 Starring:
Sidney James, Kenneth Williams, Charles Hawtrey, Joan Sims
The film opens with pub landlord and frequent holidaymaker Vic Flange (Sid James) openly flirting with the sassy saucepot widow Sadie Tompkins (Barbara Windsor) as his battleaxe wife, Cora (Joan Sims), looks on with disdain.
15
A Delicate Balance (1973)

Starring:
Katharine Hepburn, Paul Scofield, Lee Remick, Kate Reid
The film spans three days in the life of Agnes and Tobias, an upper middle class couple who share their comfortable suburban Connecticut home with Agnes' acerbic alcoholic sister Claire.
16
The War at Home (1996)

Starring:
Emilio Estevez, Kathy Bates, Martin Sheen, Kimberly Williams-Paisley
Jeremy Collier is a returning Vietnam War hero whose experiences leave him unable to adjust to the quiet realities of small town life.

Starring:
Clive Owen, Marion Cotillard, Billy Crudup, Mila Kunis
Genres:
Action, Crime, Drama
In 1974, Chris (Clive Owen) is released from prison after serving twelve years for murdering a rapist and killer he caught in the act.
18
...and Your Name Is Jonah (1979)

Starring:
Sally Struthers, James Woods, Randee Heller, Titos Vandis
A couple whose son had been diagnosed as intellectually disabled, and was institutionalized, are shocked to discover that the diagnosis was wrong, and that their son is deaf, not intellectually disabled.