Most Similar Movies to Hammersmith Is Out (1972)
Movies similar to Hammersmith Is Out (1972).
23 items, 662 votes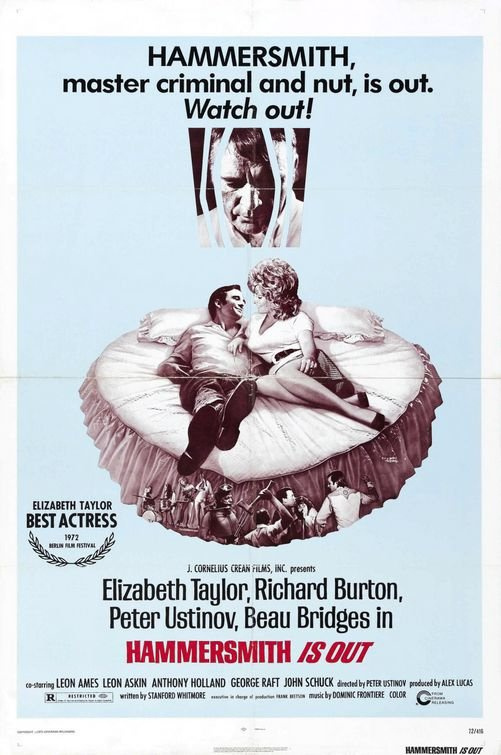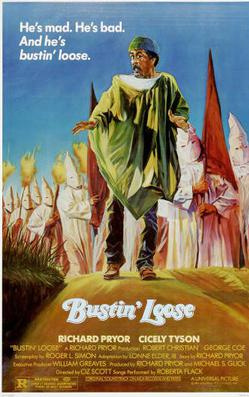 Starring:
Richard Pryor, Cicely Tyson, Angel Ramirez Jr., Jimmy Hughes
Joe Braxton (Richard Pryor) is a convict who violates his parole after a failed attempt to lift a bunch of televisions from a store in Philadelphia.
2
A Deal Is a Deal (2008)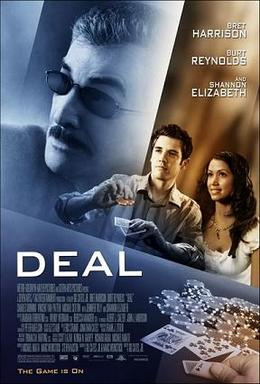 Starring:
Mackenzie Crook, Colm Meaney, Sharon Duncan-Brewster, Imelda Staunton
Paul Callow (Mackenzie Crook) accidentally runs a man over with his underground train, after the man is pulled on to the tracks by his dog.

The film follows a group of friends that are small-time criminals in Sneinton, a suburb of Nottingham. The main protagonists are best friends, Jumbo and Malc.

Hawks is a 1988 British comedy film about two terminally ill patients, an English lawyer named Bancroft (Timothy Dalton) and a young Gridiron football player (Anthony Edwards), who decide to sneak out of their hospital rooms and live life to its fullest for whatever time they have left.

Starring:
Dore Mann, Paul Grimstad, David Sandholm, Carmine Marino
Frownland is a 2007 American independent film written and directed by Ronald Bronstein.
6
Such Good Friends (1971)

Starring:
Dyan Cannon, James Coco, Jennifer O'Neill, Ken Howard
Manhattanite Julie Messinger, a complacent housewife and mother of two raucous young sons, is married to Richard, a chauvinistic and self-centered magazine art director and author of a best-selling children's book.

Starring:
Hilmar Guðjónsson, Sveinn Ólafur Gunnarsson, Þorsteinn Bachmann, Valgerður Rúnarsdóttir
Either Way (Icelandic: Á annan veg) is a 2011 Icelandic comedy film directed by Hafsteinn Gunnar Sigurðsson.
8
Mother, Jugs & Speed (1976)

Starring:
Bill Cosby, Raquel Welch, Harvey Keitel, Allen Garfield
The F+B Ambulance Company is locked in an intense battle with the Unity Ambulance Company to win a city contract for providing ambulance service to a territory within Los Angeles.

Starring:
Gillian Jacobs, Zachary Knighton, David Krumholtz, Melanie Lynskey
The Big Ask is a 2013 American comedy film directed by Thomas Beatty and Rebecca Fishman and written by Thomas Beatty.

Starring:
Michael J. Pollard, Henry Silva, Gabriel Byrne, Jeff Goldblum
Genres:
Comedy, Crime, Drama
Mad Dog Time (also known as Trigger Happy) is a 1996 American ensemble crime comedy film written and directed by Larry Bishop and starring Ellen Barkin, Gabriel Byrne, Richard Dreyfuss, Jeff Goldblum and Diane Lane.
11
Last Day of Summer (2009)

Starring:
DJ Qualls, Nikki Reed, William Sadler, Chris Bashinelli
Gregory (a. k. a. "Joe") (DJ Qualls) is a disturbed fast-food worker, who has reached the end of his mental tether after being tormented and humiliated by his cruel boss, Mr.

Starring:
Steve Buscemi, Seymour Cassel, Jennifer Beals, Pat Moya
In the Soup is a 1992 independent comedy directed by Alexandre Rockwell.

Starring:
Dyan Cannon, Robert Blake, Quinn K. Redeker, Michael Lerner
Genres:
Comedy, Drama, Romance
Dyan Cannon plays Madie Levrington, a wealthy woman who is also neurotic.
14
Back by Midnight (2004)

Starring:
Rodney Dangerfield, Randy Quaid, Kirstie Alley, Phil LaMarr
Dangerfield plays Jake Puloski, a comedic and friendly warden who runs a privately owned prison for white-collar criminals and less serious offenders.

Starring:
Gregory Hines, Vincent D'Onofrio, James Earl Jones, Max Gail
Hines plays a former dental student, Bern Lemley, who had to quit school just before finals because of a car accident that left him in a wheelchair.

Starring:
Burt Reynolds, Sally Field, Dom DeLuise, Strother Martin
Wendell "Sonny" Lawson (Reynolds), an unscrupulous real-estate promoter, learns that he has a fatal blood disease and decides to commit suicide rather than endure a slow, painful death.

Starring:
Christian Slater, Robin Tunney, Michael Parks, Cherry Jones
The film is the story of a depressed man who comes into a town with no future.
18
The Lemon Sisters (1989)

Starring:
Diane Keaton, Carol Kane, Kathryn Grody, Elliott Gould
Three lifelong friends work the bars in 1980s Atlantic City performing the songs of the 1960s girl groups.
19
Under Milk Wood (1971)

Starring:
Richard Burton, Elizabeth Taylor, Peter O'Toole, Glynis Johns
Under Milk Wood is a 1972 British drama film directed by Andrew Sinclair and based on the 1954 radio play Under Milk Wood by the Welsh writer Dylan Thomas, commissioned by the BBC and later adapted for the stage.
20
The Green Butchers (2003)

Starring:
Nikolaj Lie Kaas, Mads Mikkelsen, Line Kruse, Ole Thestrup
Svend is barbecuing and his fiancée, Tina, is bothering him about the food. Bjarne arrives and is introduced to one of Tina's co-workers, Beate.